Take a Video Tour Around Majora's Mask 3D's Clock Town
Commentary spoken by series producer, Eiji Aonuma.
01.15.15 - 4:57 PM
In case you missed the big graphic up the top of our front page, Nintendo announced yesterday that The Legend of Zelda: Majora's Mask 3D will be released on February 13th. In a follow-up from that initial information, Series producer Eiji Aonuma has released a video where he gives us a tour around the game's iconic hub area: Clock Town.
As you can see, it's, unfortunately, all in Japanese. But let's examine it more closely!
To begin with we get a look at the touch screen. If you played The Legend of Zelda: Ocarina of Time 3D then the layout of items and map should look instantly familiar. You may also notice that the clock-styled timer from the N64 version down the bottom has been replaced with a progress bar complete with time. Link then wanders around and talks to a few NPCs before stopping at an owl save point. If you've played the original game, you might notice there didn't use to be one of the statue's here. Anouma explains that the "Feather Statues" have been relocated and designed. Like the original game though, they allow Link to save at any time and they can be teleported to using a particular ocarina tune.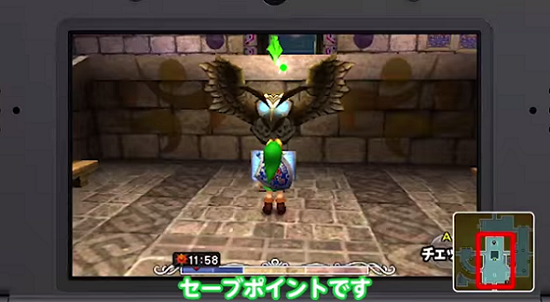 Heading to North Clock Town, we bump into Tingle and one of the Bombers who, as you may have read, will provide Link with a notebook to keep track of quests. Not long after exploring town further, we see the quest log in action. The video continues with a look around the different buildings and areas that can be found, including the location of a secret silver rupee.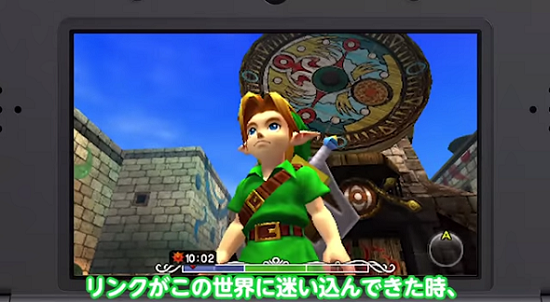 Anouma finishes by saying he hopes to show more footage of other in-game events, such as various mini-games, sometime soon. So make sure to check back for more details!