Citizens of Earth Gallery Debut
Grab a grande upside down half caff double foam nonfat cafe latte from Moonbucks and watch three trailers as well for this offbeat RPG.
09.01.14 - 6:02 PM
Citizens of Earth has had an interesting life, despite the fact that it's flown under our radar on RPGFan. Let us try and make up for our neglect with a sizable gallery debut, including the title's three trailers. We'll start with the teaser trailer:
Developer Eden Industries summarizes the idea behind Citizens of Earth best:
Citizens of Earth is an RPG that places you in the shoes of the Vice President of the World! Heís a classic bureaucrat: charming, charismatic, but practically useless. Being the bureaucrat you are, you donít actually want to get your hands dirty. Thus you go about using your charisma to recruit normal townsfolk to help you investigate and fight your battles for you.
They describe their game as "EarthBound meets Pokémon/Suikoden," and while it's too easy for developers to claim their game is "like X", the offbeat and wacky characters are clearly in the vein of Nintendo's EarthBound/Mother series. Given that Mother 3 is... well, you know, Citizens of Earth might fill that need in our lives for a silly hand-drawn RPG with a sense of humor in a modern setting. Next up, the E3 2014 trailer:
Citizens of Earth might never have come to be: Eden Industries ran a Kickstarter campaign in the fall of 2013 that fell far short of its $100,000 CAD goal. Thankfully, Atlus stepped in to help, and will be publishing the game this fall. Not bad for a 'failed' campaign! Let's look at the latest video, that shows the Vice President recruiting several citizens to his party.
If you're still not convinced, then I have one last thing that should do the trick: a gallery of images. And here to introduce them is a deer with a telephone receiver resting on its antlers: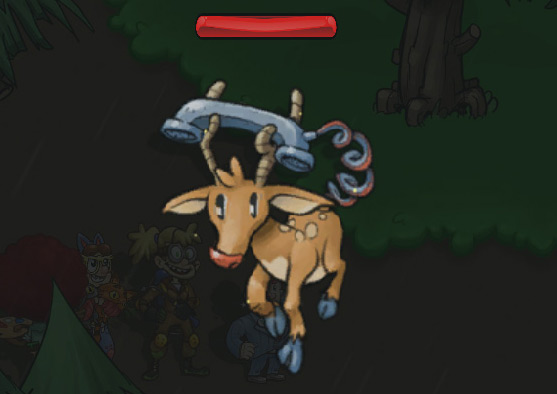 Come on, how can you say no to that face? Citizens of Earth is coming to PlayStation 4, PlayStation Vita, Nintendo 3DS, Wii U, and PC this November for $14.99 USD.