Shiny Jirachi Will Be Distributed to Pokemon X & Y in Japan
Because you can never have too much Pokémon news!
07.11.14 - 7:55 PM
Lucky Pokémon X & Y players in Japan will soon be able to nab a shiny Jirachi for their game(s). The Psychic and Steel legendary Pokémon will be distributed only at the Pokémon Center in Tohoku.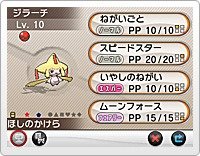 It will come at level 10 and know the moves Wish, Swift, Healing Wish and Moonblast. It will be holding a Star Piece and, as always, be kept in a Cherish Ball.
Jirachi will be distributed throughout August. There's no news on an international distribution and, unfortunately, the same Pokémon are not always available across the globe. You can always hope for a lucky trade on the GTS!