E3 2014: Atlus Announces Persona Q "The Wild Cards" Premium Edition
Tarot cards and soundtracks, ho!
06.10.14 - 11:30 AM
Atlus USA has announced a new "The Wild Cards" Premium Edition of their upcoming 3DS dungeon crawler, Persona Q: Shadow of the Labyrinth. Alongside the standard $49.99 edition, the $79.99 The Wild Cards edition features an art booklet, soundtrack CD featuring highlights of the game's score, a hard case to fit your 3DS XL, and special large packaging.
Both the collector's edition and pre-orders of the standard edition will come with the #2 set of special Persona tarot cards. Want the #1 set? Keep your eyes out for Persona 4 Arena Ultimax, which will contain them.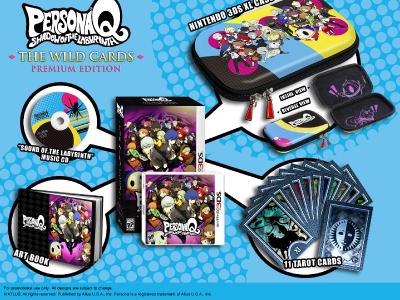 For those unfamiliar with Persona Q, it is a dungeon crawler in the Persona universe in the style of Atlus' popular Etrian Odyssey series, even down to the giant FOE bosses.
We'll have a chance to look at Persona Q this week, so keep your eyes on RPGFan at E3!