New Mega Evolutions And "Devolutions" Revealed For Pokemon Alpha & Omega
See first screenshots and learn more about characters and story!
06.07.14 - 7:30 PM
CoroCoro magazine in Japan have released new images and details on Pokémon Omega Ruby & Alpha Sapphire, and there's a couple of surprising new additions! The most unusual is that legendary Pokémon Kyogre and Groudon have a new evolutionary method: Primal Devolution where they "regress" to an ancient state.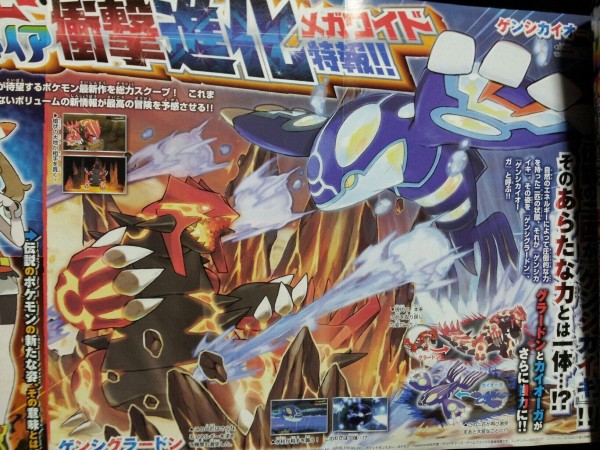 No details have yet been released as to how this will work or what it means for game mechanics. It's likely that the "evolutions" will be temporary, similar to that of X & Y's Mega Evolutions. Speaking of Mega-Evolving, Hoenn's two other starter Pokémon, Sceptile and Swampert, will now join Blaziken with an additional evolutionary step.

Sceptile (mid-left) will become Grass/Dragon-type, Swampert (right) Water/Ground-type and, joining them, recently announced Rock-type legendary Diancie will become Rock/Fairy-type (left).
New designs (well, improved) of Generation III's protagonists have been revealed too. This time around, whichever character you don't choose (boy or girl), the other will support you as an NPC in various parts of the story. Pokémon League Champion Steven will be returning, and he will apparently be researching the mysteries of Mega Evolution.

Villains Team Aqua and Team Magma will make a return in their respective games. Judging from the scans below, it looks like their key members have had a bit of a makeover. The teams are led by Archie and Maxie respectively.

And in our last bit of new info for today, the Mach and Acro Bikes will be returning.
With E3 this coming week, it's likely even more on Pokémon Omega Ruby & Alpha Sapphire will soon be revealed. Stay tuned! The games are slated for a worldwide release in November.