Box Art, Character Additions and a Combat Trailer for Persona Q
Somebody threw a chair!
04.05.14 - 9:43 AM
Two additional character reveals and a combat trailer have been released for the upcoming dungeon crawler Persona Q: Shadow of the Labyrinth.
First up in this rotation is Koromaru! Although already charmingly cute in Persona 3, this version promises to fill your 3DS with even more adorable moments than before. The above video also confirms that Cerberus, Koromaru's initial Persona 3 Persona, will still retain its trademark darkness-based spells.
Following Koromaru is Persona 4's "tough guy" Kanji Tatsumi. Still retaining his tough outer attitude, he can also be seen above knitting with Ken from Persona 3. He retains his Persona 3 Persona, Take-Mikazuchi.
The addition of the Velvet Room caretakers was also announced via Famitsu. Elizabeth, Margaret, and Theodore were listed accordingly. Persona 4: Golden's Marie was also listed as being in the game, although she will not be assisting in the Velvet Room this time. While it is unknown if these characters will be playable, the confirmation of them being included is a welcome sign for most fans who could only stipulate if they'd play roles via earlier trailers and silhouettes.

Lastly, Atlus released one final video showcasing the combat. The final box art has also been released.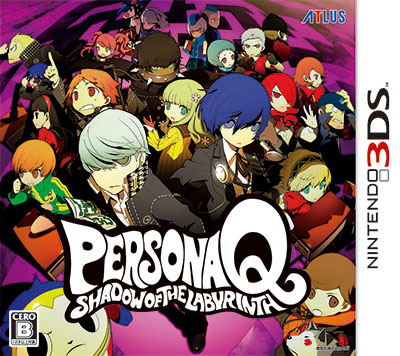 Persona Q: Shadow of the Labyrinth comes out on June 5th in Japan and will release sometime this Fall in North America for the Nintendo 3DS.