Drakengard 3 Collector's Edition Announced For Europe
Fans talked and Square Enix listened!
04.03.14 - 3:53 AM
Originally only slated as a downloadable release in Europe, Square Enix has been listening to fans pleading for more and responded in dazzling fashion.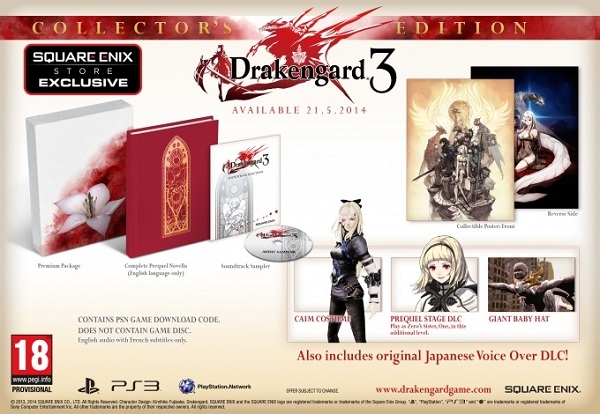 While a physical copy of the game will still be unavailable, this collector's edition comes with a bevy of physical extras. The package includes a clamshell box, a hardback prequel novella, a music sampler CD, and a double-sided poster. Download codes for the game, the Ciam costume pictured above, an additional level featuring Zero's sister One, and the Japanese voice acting pack are also included. Lastly, this edition includes a download code for a giant baby hat for Mikhail, your dragon, which looks just as ridiculous as you might imagine.
The Collector's Edition of Drakengard 3 will be available in Europe on May 21st with a price tag of €69.99/£59.99 ($94 USD) and will be limited to 2,000 copies. Fans looking to purchase the game will need to do so via Square-Enix's online store or the Square-Enix boutique located in France.
And, in case you missed it, both the regular and special collector's edition will be available in North America on May 20th.