Tales of Symphonia Chronicles Collector's Edition Comes To The West
It seems that Namco Bandai-senpai has noticed us.
10.14.13 - 3:10 PM
Namco Bandai announced this weekend that Tales of Symphonia Chronicles would be getting a collector's edition. It didn't take long to get official confirmation that North American fans can also get their hands on it as well, without having to import. The collector's edition, pictured below, comes with a set of five Chibi Kyun Chara figures, a novel that takes place between Tales of Symphonia and its sequel, Dawn of the New World, a multi-disc soundtrack, and packaging with artwork by ufotable.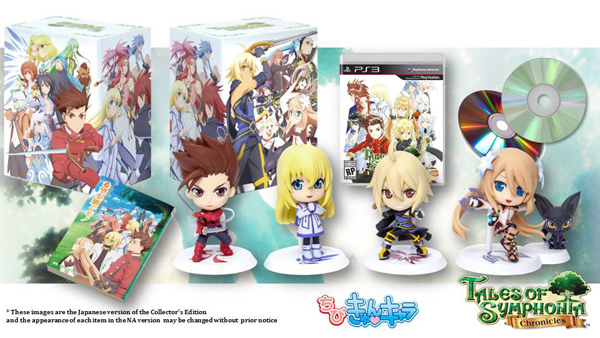 The bundle will cost $99.95 US and be sold at 'participating retailers.' Be quick about getting your pre-order in though - the CE is limited to just 15,000 copies. Tales of Symphonia Chronicles, a PlayStation 3 HD collection that includes Tales of Symphonia and Dawn of the New World, goes on sale in North America and Europe early next year.