Nintendo Makes Zelda: Wind Waker HD Wii U Bundle Official
Plus, it comes with a nice little surprise!
08.28.13 - 1:20 PM
There's been talk the last several days about a Wii U package bundled with The Legend of Zelda: The Wind Waker HD after a video was posted online and quickly pulled. Today, along with an announcement regarding their entire fall lineup and the strangely-interesting Nintendo 2DS, Nintendo made the bundle official.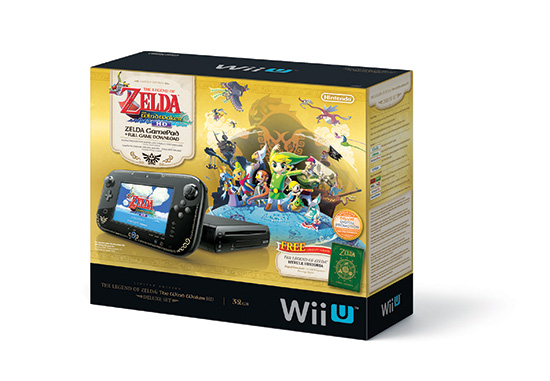 (Click for a super large version)
This new bundle contains a black 32GB Wii U at the console's newly-reduced price of $299.99 USD (the 8GB white model is all but discontinued). The included Wii U GamePad, as you can see in the above image, is adorned with gold Hylian symbols and decorations, very much like the Ocarina of Time-themed Nintendo 3DS that I hold dear. The bundle also includes a digital version of Hyrule Historia, the 280-page art and history book for the entire Zelda series.
But the best part? Buying either this bundle or The Wind Waker HD in digital form means you get the game early - on September 20th. An early release is certainly a clever way to kindly nudge people to embrace digital (see also: the recent three-week-early digital release of Star Trek: Into Darkness).
If you strongly prefer having a physical copy, the standard boxed retail version of the game launches on October 4th for $49.99. In addition, GameStop will have an exclusive bundle that includes the game and a Ganondorf figure for $54.99.
For more on Zelda: The Wind Waker HD, check out my preview from E3 and our gallery, linked below.