Ys: Memories of Celceta Silver Anniversary Edition Announced
Plus a special podcast episode featuring Tom Lipschultz of XSEED!
08.26.13 - 1:14 PM
The next chapter in the long and storied Ys series is nearly upon us, and we have good news for diehard fans. XSEED announced today that they will be releasing a limited "Silver Anniversary Edition" of Ys: Memories of Celceta alongside the standard edition when it launches this Fall on the Playstation Vita. This collectible package will include a cloth map of Celceta, an art book entitled "Adol's Travel Journal," a collectible compass, and a three-disc music CD set with tracks spanning the Ys series' 25-year history. The standard edition will be priced at $39.99 USD, while the Silver Anniversary Edition will run $59.99 USD.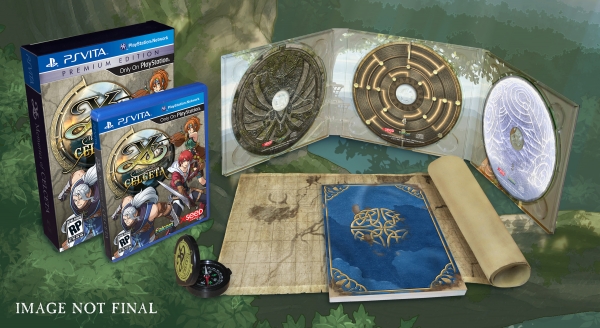 I'm also delighted to share that Tom Lipschultz, Localization Specialist at XSEED and walking Falcom encyclopedia, recently appeared on Rhythm Encounter, the RPGFan Music podcast. Episode 10, "Falcom Tomfoolery," features not only a wealth of obscure Falcom tunes and fascinating discussion of the company's history, but also a preview of the music selected for the CD bundled with the Silver Anniversary Edition of Ys: Memories of Celceta. Check back with us on Wednesday (or subscribe to the podcast via iTunes/RSS) for this special episode!
For more coverage of Ys: Memories of Celceta, be sure to check out my preview of the game from E3 2013, as well as my review of its soundtrack. Check back with us for more details as the game nears its Fall release date.