Would You Like A Dynamic Theme With Your Kingdom Hearts HD 1.5 ReMix?
Yes. Yes you would.
07.18.13 - 5:44 PM
If you hadn't noticed, Square Enix is making a concentrated effort to entice people to pre-order their upcoming lineup. As if Final Fantasy X|X-2 and Kingdom Hearts in HD for $39.99 wasn't enough incentive, throwing in special packaging, art books and more just sweeten the deal that much more.
Kingdom Hearts HD 1.5 ReMix was already announced to include an art book for pre-ordering customers, and Square Enix is adding another item to the (Re)Mix: A Dynamic Theme. The theme is fully animated, as dynamic themes are, and features a variety of locations and characters, as you can see below. Most importantly, of course, are the Mickey and Keyblade icons on the PS3's XMB.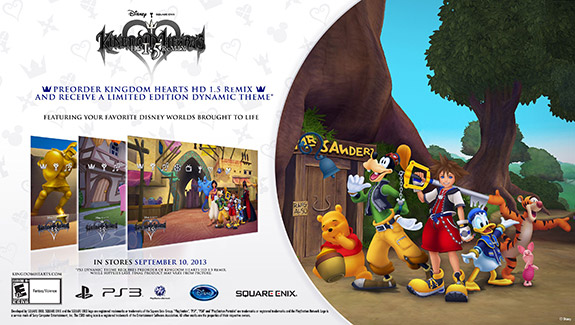 (Click for large version)
The Kingdom Hearts HD 1.5 ReMix Dynamic Theme offer is listed as "while supplies last," an odd disclaimer to a digital item. In any case, pre-order your copy today, and look for Kingdom Hearts HD 1.5 ReMix on September 10th.