Mass Effect Trilogy Announced
Just in time for the holidays, too.
09.26.12 - 11:55 AM
We knew this would be coming at some point, but this soon? BioWare announced the Mass Effect Trilogy today, which is exactly as it sounds like: A bundle of all three titles in one package, and just in time for Christmas. Mass Effect, Mass Effect 2 and Mass Effect 3 will come in the below packaging and with some 'exclusive artwork' for $59.99 US.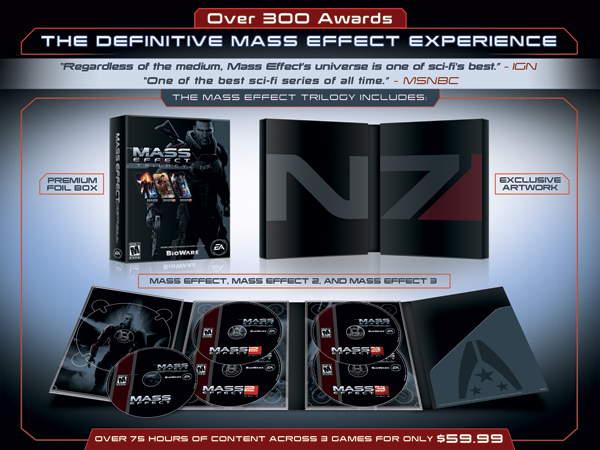 The Xbox 360 and PC versions of the Mass Effect Trilogy go on sale November 6th, with a PlayStation 3 version planned for later this year. As well, the first game will be available as a standalone title over PSN. (The first Mass Effect on PS3? Finally!) It should be noted that there has been no mention yet as to whether any DLC will be included.
In addition, November 7th, the day after release, is also being billed as 'N7 Day' to celebrate the franchise with in-game, online and live events, although details are yet to come.