Pokémon Black & White 2 Genesect Announced For NA Distribution
The bug/steel Pokémon is almost here!
09.09.12 - 12:27 AM
Just a couple of days ago, Nintendo of America announced a new Wi-Fi distribution event so players can get their hands on the new legendary Pokémon Genesect.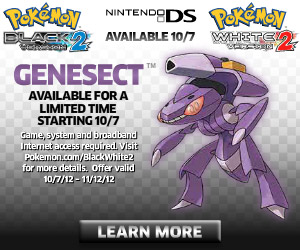 You'll be able to download Genesect via a Wi-Fi event to either Pokémon Black 2 or Pokemon White 2 once the games are released. The event begins October 7th and will last through until November 12th. Genesect will know the moves Techno Blast, Magnet Bomb, SolarBeam, and Signal Beam, but will not hold any item.
There's no news yet for distribution elsewhere, but it's certain it will happen at some stage. Keep checking back and we'll keep you posted!