Release Date & New Media for Kingdom Hearts [3D]: Dream Drop Distance
A slick limited edition 3DS system, Fantasia & Tron: Legacy worlds and more!
01.24.12 - 11:55 PM

If those new screens from a few weeks ago weren't enough, we have plenty of news and media for Kingdom Hearts [3D]: Dream Drop Distance today, but let's get the important news out first:
Square Enix has announced that Kingdom Hearts [3D]: Dream Drop Distance will release in Japan on March 29th. The game will be available two ways, and the first print copies will be bundled with an AR card, unlocking a rare Dream Eater (that's still attainable by anyone, but will be hard to acquire).
Oh, and while we know it's coming, no, there's no confirmed North American release date yet.
The two versions for Japan are:
- Kingdom Hearts [3D]: Dream Drop Distance by itself (6,090 yen)
- Bundled with a Kingdom Hearts Edition 3DS system (pricing TBA), seen below: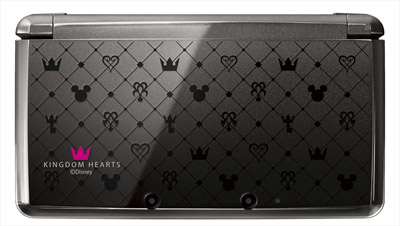 Also to be released is the Kingdom Hearts 10th Anniversary Box, but no details on what the box contains have been released.
Some of the many (46) new screen shots released show off some things we've talked about in the past, but had no images for. First is the 'Reality Shift' that puts your team inside a comic book-styled scenario:
And no, I don't know what Charlie Sheeen has to do with Kingdom Hearts, either.
Last time, we talked about the Fantasia-themed world, Symphony of Sorcery. We have screens of this, the Tron: Legacy world, more The World Ends With You characters and much more. Here's a small teaser below, but be sure to view our newly-updated gallery for more.

P.S. I'm not necessarily implying that someone at Square Enix likes My Little Pony, but this Dream Eater bears more than a passing resemblance to one Rainbow Dash...
Just sayin'.