Hakuoki: Demon of the Fleeting Blossom Limited Edition Contents Revealed
According to Aksys, one is a warm feeling inside! (Not guaranteed.)
12.24.11 - 12:22 PM
A couple of days ago, Aksys announced the special edition contents for the North American release of the PSP otome visual novel Hakuoki: Demon of the Fleeting Blossom. You can examine it for yourself in the image below: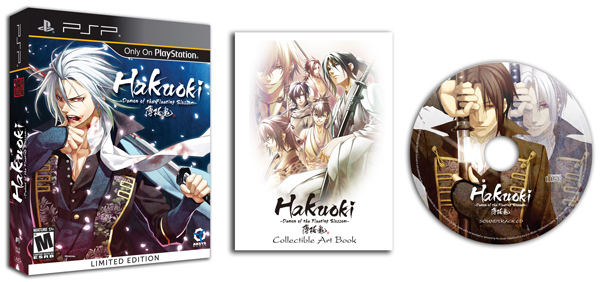 As you can see, you'll be getting the game, a soundtrack CD, and a 72-page full-colour art book. All for the pretty decent price of $39.99.
Hakuoki: Demon of the Fleeting Blossom will be one of the first official releases of an otome game outside of Japan, so this is quite exciting! Even moreso if you enjoy looking at handsome, well-dressed men. That's not exactly to my taste, but the compelling story is likely to make it appeal to a wider audience. The PSP title is set for a release on February 14th, 2012 in North America.