Kingdom Hearts: Dream Drop Distance's Three Musketeers World
And other random tidbits.
12.14.11 - 11:41 PM
The pages of this week's V-Jump revealed another world in Kingdom Hearts: Dream Drop Distance to go with the previously revealed Pinocchio and Hunchback of Notre Dame worlds. The newest world is based on The Three Musketeers and called the Country of the Musketeers. Mickey, Goofy and Donald are all dressed as musketeers, and Minnie and Captain Pete show up in the world too.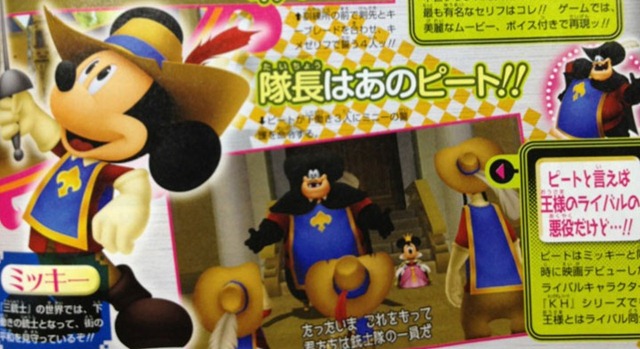 The magazine also revealed more Dream Eaters, the same monsters that can join you and be made even more powerful: Frog Chef, Mimi Bunny and Nal Bird. And apparently Neku isn't the only cameo from The World Ends With You's cast: Joshua and Beat will be in Kingdom Hearts 3D as well.
Kingdom Hearts: Dream Drop Distance for the 3DS is set for a spring 2012 release in Japan. There is no overseas timeframe quite yet.