Kingdoms Of Amalur: Reckoning Limited Editions Announced
You have a choice of three ways to give EA, 38 Studios and Big Huge Games all your money.
12.09.11 - 1:35 PM
With the game just two months away, EA, 38 Studios and Big Huge Games this morning finally announced some limited edition bundles for Kingdoms of Amalur: Reckoning. Yes there is more than one. The three editions, Special Collector's and Signature, were detailed this morning on the game's website.
The bundles will all be sold exclusively online to customers in the US and Canada. The game's staff explained that making it a North America-exclusive was a very difficult decision to make, but Big Huge Games are a small company, and the choice boiled down to either North America only or no limited editions at all. The limited editions will be available for all three platforms.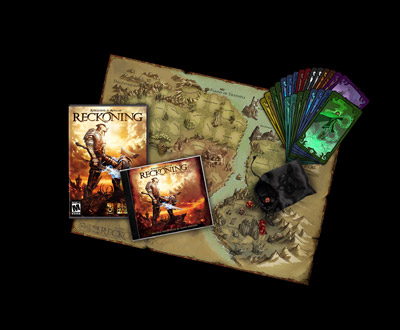 The special edition includes:
The game
A parchment map of the Faelands
The game's soundtrack, which includes 35 tracks
A seven-piece dice set and bag, themed after Amalur
The set of 40 Destiny Cards, each 3.25 x 5.5" fully coloured with the Destiny name and an illustration.
Only 2000 copies will be produced, and this edition will go for $80 US.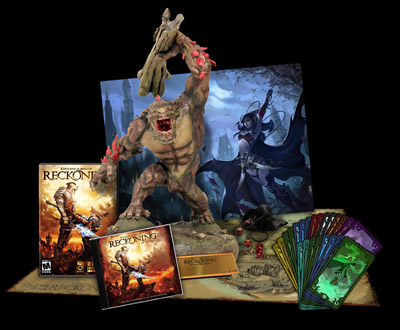 The collector's edition includes all of the special edition items, plus a 12.5" limited edition resin Prismere Troll figure form McFarlane Toys, and a Reckoning concept art 12" x 16" lithograph signed by Ken Rolston. Only 700 of the collector's edition will be available, and it retails for $200 US.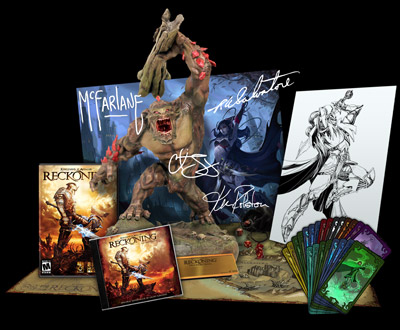 Finally, the signature edition will include all of the above, but the Prismere Troll figure is signed by either Todd McFarlane, R. A. Salvatore, or Curt Schilling. plus a limited edition numbered Todd McFarlane sketch screenprint. Because there are only 300 each of of these prints and signed figures, the signature edition will also be limited to 300 as well. This bundle retails for $275 US.
These limited editions are available for preorder on the game's website. For more details on the limited edition items, read Muse's FAQ on the Reckoning forums here.
Kingdoms of Amalur: Reckoning (Xbox 360, PS3, PC) will be available in North America on February 7th. Be sure to check back with RPGFan very soon for our latest hands-on impressions piece on the game!