iOS This Week: The Late Edition
Two new releases sure to please retro fans and graphic adventure lovers, and sales, sales, sales!
08.26.11 - 9:07 PM
This week was looking like a slow one, until I learned that the delightfully old school Dragon Fantasy and long-awaited 1112 Episode 03 were launching. And while I apologize for posting this later than usual, it allowed me to compile a better list of the excellent sales going on right now on RPGs. Your App Store dollars will get you a LOT this weekend, so read on to see what all is on sale.
Dragon Fantasy
(Universal)
by The Muteki Corporation
Price:
$2.99 [iTunes link]
Ah, Dragon Fantasy. I've been wanting to talk about this one for awhile. I caught wind of this excellent-looking retro RPG homage just after E3 - I only wish I had known of it during the show. By then, it was old news, and I knew a release was coming, so I've been waiting. Anyway, Dragon Fantasy is a love letter of sorts to the NES era of RPGs, especially Dragon Quest (back when we still knew it as Dragon Warrior). The retro feel comes with a sense of humor, making the title part parody and part homage. Take a look at the trailer and some screens below:
It looks like some great retro RPG fun for $2.99, and as a Universal app, it'll run on the iPhone, iPod touch and/or iPad.

1112 Episode 03 (iPhone/iPod touch & iPad versions)
by Agharta Studio
Price: $4.99 [iPhone, iPod touch; iTunes link]
$7.99 [iPad; iTunes link]
Agharta Studio's graphic adventure 1112 Episode 01 released in November 2008. 1112 Episode 02 followed much later, in April 2010, and this week, the long-awaited 1112 Episode 03 is finally here. The series has always been one of the nicer-looking graphic adventures out there, and the atmospheric trailer for the latest entry upholds the tradition:
Like the first two episodes, 1112 Episode 03 is available in both 'small' and 'large' (iPad) versions.
Crescent Moon Games publishes some excellent games through the App Store, and for some reason has decided to drastically lower the price of its RPGs for... well, we don't know for how long. But since all three are now on sale for 99 cents, now is the time to buy these three titles if you've been on the fence:
Aralon: Sword & Shadow [iTunes link] (Universal): As if slashing the price from $9.99 to $4.99 wasn't enough!
Rimelands: Hammer of Thor [iTunes link] (Universal)
Ravensword: The Fallen King [iTunes link] (Universal)
In addition, some other publishers have gotten into the pre-pre-holiday weekend sale spirit:
Square Enix has put both Chaos Rings [iTunes] ($6.99; normally $12.99) and Chaos Rings Omega [iTunes] ($8.99; normally $11.99) on sale until early next week to celebrate each game seeing the addition of a Japanese voice option (and a hefty increase in file size, naturally).
We recently discussed Companions [iTunes], now on sale for $2.99 (regularly $4.99).
Finally, Com2uS has placed Inotia III: Children of Carnia [iTunes] for sale at 80% off: The normally $4.99 title is now just $0.99.
I don't know if this is related, but I wonder if some of these sales were also timed to coincide with a new iTunes/App Store promo: Great Role-Playing Games. Apple always has some kind of app selection featured each week, and this time it's for our beloved genre. Besides featuring a few titles mentioned above, other titles we've highlighted before are featured, such as
Eternal Legacy
,
Final Fantasy III
,
Dungeon Hunter 2
and much more. While we don't have a review up for this one yet, you absolutely need to play
Superbrothers: Sword & Sworcery EP
. All of you.
You can see the feature in the scrolling headlines in the App Store, or click here to go directly to it.
A fun little thing I noticed is that the graphic for this feature happens to use the same font and color scheme that we use here at RPGFan. While I'm sure it's possible someone on the iTunes design team knows RPGFan, I'm sure this is just a happy coincidence, of course. Screen shot below, for reference: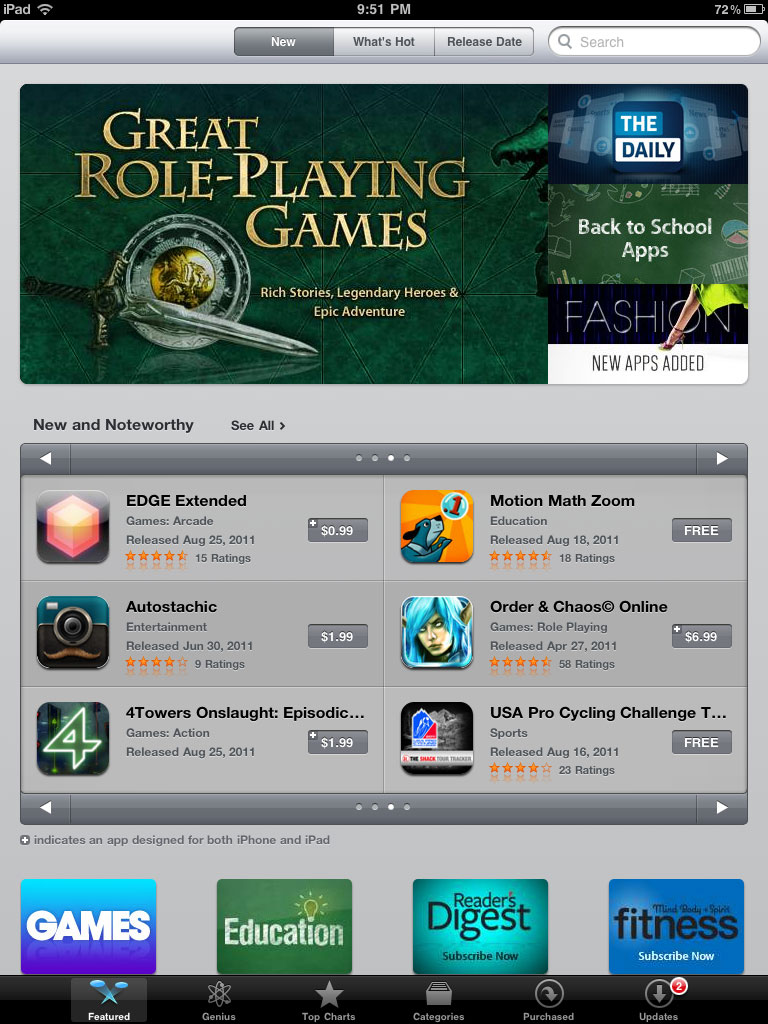 Every time it's time to write the Wrap-Up, all that goes through my head is the
Winter Wrap Up song
from a show I should not be allowed to like as much as I do.
Anyway, next week could prove eventful - at the very least, we know Crescent Moon is bringing the currently iPad-only Pocket RPG to the iPhone and iPod touch - meaning it will finally fit in normal-sized pockets - and that the $2.99 game is going to launch for $0.99. We'll also look at two promising-looking first-person RPGs.
Beyond that, we're going to have a brief interview with Cedar Hill Games' Tobyn Manthorpe in our next podcast, and we'll soon have a review of their title Emissary of War on the site, so look forward to both of those!