Introducing A New PSP Strategy RPG, Gungnir
A new title from Atlus and Sting is on its way to your PSP.
02.23.11 - 11:39 PM
The pages of Famitsu this week revealed a new strategy RPG that's slated for Japanese release in just a couple of months. Gungnir will soon be the latest offering from Atlus, Sting and the team behind Yggdra Union. Here's what Famitsu showed us: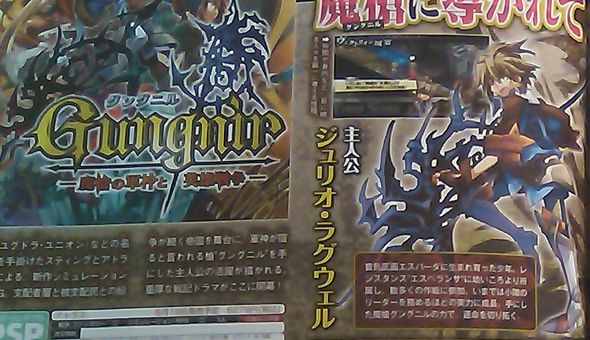 Gungnir starts off in Gargandia, caught up in a civil war between two races: Dartania (the rich rulers) and the Leonica (impoverished and 'cursed'). The main character, Julio Ragwell is a Leonica who saves Alissa, a timid Dartanian, from being sold to another country. As a token of thanks, she joins his resistance force, called Esperanza - of which Julio has been a member of since his youth. He's got his own battalion, and his weapon of choice is the Gungnir spear, unsurprisingly. The Gungnir is supposed to contain the god of war.
The Esperanza force is led by Julio's step-brother, Ragnus, whose weapon is an axe. Despite the relation, Ragnus is a Dartanian, but the imperial army killed his stepfather some 15 years ago. Like Julio, Ragnus grew up in the poor region of the empire. Another character introduced was Elise, who claims to be a messenger from the gods.
Gungnir will feel familiar if you've played Sting's previous strategy RPGs, such as Knights in the Nightmare, but the staff is also implementing new gameplay elements for a fresh experience. Two gameplay systems were briefed by Famitsu: 'tactics gauge' and 'act sequence.' The former is used up depending on the actions you take, and the latter displays the sequence of whose turns will be next in battle and in what order. (You may have seen this in Shin Megami Tensei games already.)
Gungnir for the PlayStation Portable is 80% complete and will be released in Japan on May 19th.