Disgaea 4: Of Mushrooms and Cameos
Details on some expected (yet welcome) cameos and some random battlefield interaction stuff.
02.17.11 - 9:49 PM
We've got a random smattering of Disgaea 4 news bits for you today, so let's get to it.
First, NIS has revealed that Laharl and Etna are indeed going to show up in the game, though it appears they'll be doing battle with your party. We've added some new screen shots featuring Laharl and Etna to our ever-growing gallery, so take a look!
In case you weren't sure how 'random' this was going to be, our second little news bite involves a bit of Super Mario Bros. influence that seems to have crept into Disgaea 4. See the image sequence below to see what I mean: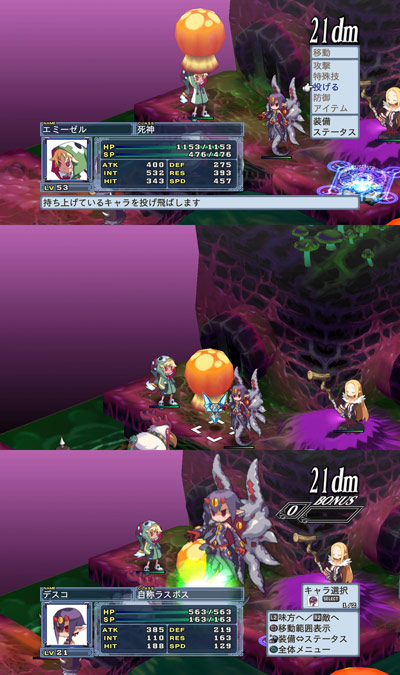 As you can see, tossing this spotted 'shroom on another character causes them to grow super large. One would imagine you'd probably want to avoid tossing these onto enemies.
Some other quirky gameplay elements allow players to stack crates on the battlefield to create staircases and toss bombs found on the ground into enemies - though they can damage your characters as well. Oh, and while you CAN lift up those tombstones you see, you may be subjecting yourself to a zombie attack in the meantime, so you best be careful. Screen shots of all of this is also on page 6 of our gallery.
Disgaea 4 releases in a week in Japan on February 24th, and NIS America is bringing it here this summer.