Meet Tales of Xillia's Newest Character
She's cute!
02.09.11 - 2:20 AM
While we wait for Tales of Graces F over here in North America, let's take (yet) another look at what Japan is getting in terms of Tales games, namely Tales of Xillia. Recently we were introduced to Alvin, but a fourth character has showed up by way of Shounen Jump: Leia Roland. Designed by Mutsumi Inomata (who also created female main character Milla), Leia is a childhood friend of Jude, the male main character. She is described as sweet, cheerful.... and loves to bet on sports games and martial arts events. Employed at Jude's family clinic as an apprentice nurse, she uses staff abilities in battle.
Have a first (blurry) look: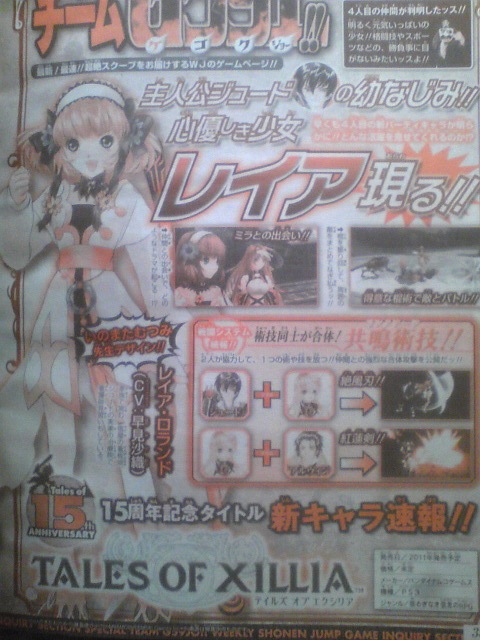 The magazine also made mention of Resonance Artes in which two characters team up for a combined attack; the example being Alvin and Milla's Crimson Sword attack arte.
Tales of Xillia for the PlayStation 3 will be released sometime this year in Japan.