Target Release Dates Set For XSEED Titles in Europe and North America
The Legend of Heroes: Trails in the Sky to receive an extra-fancy Premium Edition.
02.02.11 - 2:43 AM
In a span of only a few months, XSEED released both Ys SEVEN and Ys: The Oath in Felghana to critical acclaim in North America. Their next game, Ys I & II Chronicles, is just around the corner, with a target release date of February 22nd. European fans can look forward to the game's digital release on the Playstation Network during the same week it arrives on UMD.
XSEED also announced the release window for their next major project, The Legend of Heroes: Trails in the Sky. The game, scheduled to be released in March, is the first title in a trilogy of acclaimed RPGs known for their massive script and immersive storylines. Fans will have a choice between the Standard Edition for $29.99 or the Premium Edition for $39.99, which will include a soundtrack CD, a 13" x 19.5" poster, and a replica Bracer Guild badge like the ones worn by characters in the game. Check out the swagalicious packaging below: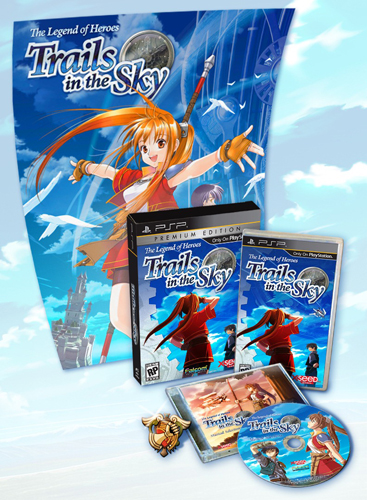 To celebrate, we've got a few new English screens in the gallery below. We will report as soon as a precise release date is set for The Legend of Heroes: Trails in the Sky. Look for further coverage of the game in the coming weeks!