Devil Survivor Overclock Announced For The 3DS
Apparently, seven days wasn't enough time to save Tokyo.
01.05.11 - 2:55 AM
With the Nintendo World event in Japan approaching very soon, we're starting to hear more about 3DS titles, many of which will be present. The pages of this week's Famitsu provided a lot more on a previous 3DS announcement that merely consisted of a series mention in a long list of games at last June's E3: Shin Megami Tensei: Devil Survivor.
As it turns out, Devil Survivor: Overclock will be something of a port from 2009's original Nintendo DS version with a few extras: Atlus has added an 'eighth-day' scenario to the original game, for starters. The main characters became trapped inside a sudden Tokyo lockdown, with the appearance of lots of demons making matters more complicated. In the original game, they had seven days to investigate and fight their way to the root of the problem and save the city.
The graphics have also been improved for the 3DS version, and there will even be voice acting this time around. (I can only imagine Yuzu's voice now. Yikes.) Atlus also promises over 150 demons in Overclock. For a first look at the game, check out the scan below (click for the full-sized image):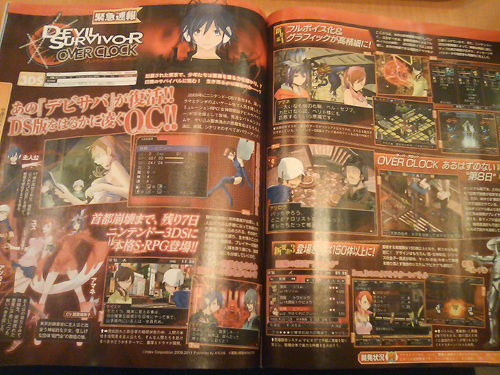 Devil Survivor: Overclock does not have a date yet, but is 90% complete.