Persona 2: Innocent Sin Goes To PSP
The dreams are coming true, one by one.
10.26.10 - 10:55 PM
The pages of this week's Famitsu had a bit of a surprise: Persona 2: Innocent Sin is apparently following in the original Persona's footsteps, and is headed to the PlayStation Portable.
Innocent Sin was released in Japan in 1999 and was the first of two Persona 2 titles. The second, Eternal Punishment, came out in 2000 and was the only one of the two to make it out West. Like Persona for the PSP, the game will be directed by series (and Shin Megami Tensei series) composer Shoji Meguro. And while Innocent Sin will get a new intro movie courtesy of Satellite, the game's music will remain the same.
Will Persona 2: Eternal Punishment follow in its footsteps? While there has been no mention of it yet, it's just a matter of time.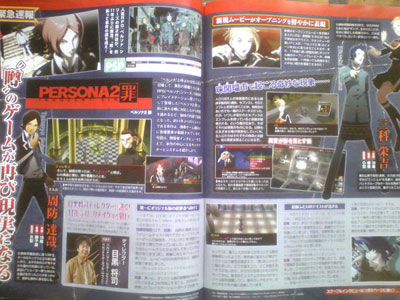 9:07 PM:
We have a couple more scans, this time of Maya, Jun and Yukino, below. Turns out that the game is getting a bit of an update, as you can tell by the scans. It will of course get widescreen support for the PSP, and several minor things like a mini map and character statuses like the later Persona titles, as well as a display of the character turn order during battle, have been added in. The gameplay will be based more on Eternal Punishment's than the original Innocent Sin though. Also very interesting is that the player will be able to see demons' emotions - this will help when you want to negotiate (or not) with them.
During fusion spells you will see a cut-in portrait of the character, and new character illustrations are being made for this remake. The voice acting will not be re-recordered, rather just remastered for the PSP version. While there will be no new music recorded, you will have the option of the game's original music, or the arranged tracks. The game will have a data install option, and you'll also be able to change the difficulty anytime in the menu, as well.
Atlus hopes to release Persona 2: Innocent Sin for the PSP sometime this winter in Japan, and has already promised a soundtrack as a pre-order bonus. Lastly, an Eternal Punishment remake is not actually in the works right now, but Meguro would really like to do one. (Translation: Innocent Sin probably needs to do well before Atlus decides an EP remake is worth it.)