The

Gensou Suikoden

series, better known as

Suikoden

, has sold a total of 1,700,000 copies in Japan and is now headed to the PlayStation2 for its third installment.

Gensou Suikoden III

will feature, for the first time in the series, 3D polygons sprites, as Konami Tokyo revealed today. The story will focus on three characters, with different ages, backgrounds, and living in different places, and whose different points of view will hence offer a "multiple" storyline.

Suikoden III

will be released in December in Japan, a stateside release has yet to be announced but is likely at this point. The first piece of official artwork was also made public: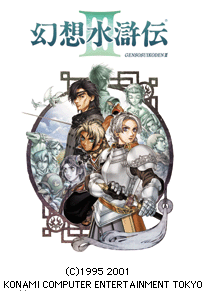 In other Suikoden related news, Gensou SuikoGaiden Vol.1: Swordsman of Harmonia is getting re-released in Konami's The Best collection on September 13th for 2800 yen (approx. $23). As for Gensou Suikoden Online, it's still supposed to be in the works, but has yet to be announced by Konami.