After the recent re-release of the

Final Fantasy IV

Piano Collections, available for sale at Japanese retailers since last week, NTT has decided to re-release the

Final Fantasy V

and

Final Fantasy VI

Piano Collections as well. However, as was the case for

FFIV

: PC, the re-releases will not include the hardcover music scores book that the original editions came with. We have a magazine ad for the CDs, and here are their catalog numbers, prices and release dates:

FFIV Piano Collections, NTCP-1001, 2,310 yen, available.
FFV Piano Collections, NTCP-1002, 2,310 yen, to be released on June 26th.
FFVI Piano Collections, NTCP-1003, 2,310 yen, to be released on July 25th.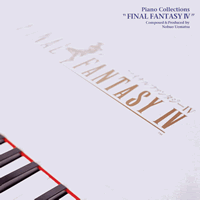 Information on another FF-related CD has also emerged: Square Vocal Collection. Though previously rumored to be the third Final Fantasy Vocal Collections CD, this CD turns out to have no connection with the previous VCs, Pray and Love Will Grow (which you can find reviews for in our soundtracks section). The Square Vocal Collection will contain vocal songs from not only the FF series but also from Square's other games such as The Bouncer, Soukaigi, Chrono Cross, etc. The CD will be available on June 20th at 2,233 yen. Here's a tentative tracklist translation:
Owaranai mono ~ Forevermore (Neverending Thing - Forevermore) by Reiko Noda (from

The Bouncer

)

Small of Two Pieces ~ Kishinda hahen by Joanne Hogg (from

Xenogears

)

Kokoro no takarabako (The Heart's Treasure Chest) by Hiromi Oota (from

Chocobo Racing

)

9 Times by Sobut (from

Gekikyuukan Pro Yakyuu

, aka Gekikyuukan Pro Baseball)

Lovely Strains ~ Tanmu no kiseki (The Pale Dream's Miracle) by Kotomi Kyouno (from

Soukaigi

)

Eyes on Me (Orchestra Version) by Faye Wong (From

Final Fantasy VIII

)

Somnia Memorias by Shani Rigsbee (from

Parasite Eve

)

Stars of Tears ~ Yasashiku hoshizo furi shikiru by Joanne Hogg (from

Xenogears

)

Radical Dreamers ~ Nusumenai houseki (A Jewel That Can't Be Stolen) by Noriko Mitose (from

Chrono Cross

)

Melodies of Life by Emiko Shiratori (from

Final Fantasy IX

)

Song of Mana (Ending Theme) by Annika (from

Seiken Densetsu Legend of Mana

)
Bonus Track:

Chiisana hane (Small Wings) by Mari Izugawa (from

Dice de Chocobo

)