Get on the DQVII bus!
Looks like Dragon Quest VII will indeed meet its August 26th release, despite the delay rumor that had been floating around. Now Enix is putting all their effort in a monster advertisement campaign; thus, people in Tokyo can now ride the... Dragon Quest VII bus! If you walk around Tokyo's Shinjuku or Shibuya areas between August 9th and 27th, you may encounter this bus decorated with the characters and monsters of Dragon Quest VII. Also, starting August 14th, a second TV commercial featuring pop band Smap will appear on Japanese channels. To round off this campaign, Enix has published an 8-page ad in last week's Famitsu. You can check it out here.




Nintendo has revealed pictures of the first few Game Boy Advance games! One of the nine game, namely Ougon no Taiyou, which translates to Golden Sun, is a nice-looking RPG. Not much about it known other than this picture, and Nintendo's description: "A boy sets out on a quest to save the world from ancient science gone amuck in this fantasy RPG."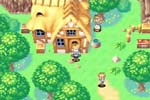 In a surprising move, Sega has announced that, for the first time, they will not attend this autumn's Tokyo Game Show. Sega would seemingly rather focus on a special online event around the same time.
Tales of Eternia, Khamrai and Eldorado Gate 1 finally got their release dates set! Tales of Eternia will hit Japanese retailers in November, while Khamrai will get released on October 5th. As for Eldorado Gate, the first chapter of this bimonthly RPG will be available on October 10th.
Lastly, here are the RPG sales figures of the week of July 31th through August 6th.
Rank
(Prev.
rank)
Syst.
Title
Developer
Release
date
Sales of week
(Total sales)
4
(N)
DC
Grandia II
Game Arts
08/03/00
100,337
(100,337)
8
(6)
PS
Final Fantasy IX
Square
07/07/00
47,898
(2,539,375)
11
(N)
GBC
Zoid, Resurrection of the Evil God - Genobreaker chapter
Tommy
08/04/00
27,657
(27,657)
14
(N)
PS2
Sorcerous Stabber Orphen
Kadokawa/ESP
08/03/00
18,028
(18,028)
15
(7)
GBC
Sakura Taisen GB
Media Factory
07/27/00
16,117
(57,717)
16
(N)
WS
Digimon Adventure 2: Tag Tamers
Bandai
08/03/00
15,570
(15,570)
19
(N)
GBC
Love Hina Pocket
Marvelous Entertainment
08/04/00
15,143
(15,143)
Date Updated:
August 15th, 2000
Time Updated:
5:24 PM


Feena
Related Links:
• Dragon Quest VII Ad
• Golden Sun Screen Shot