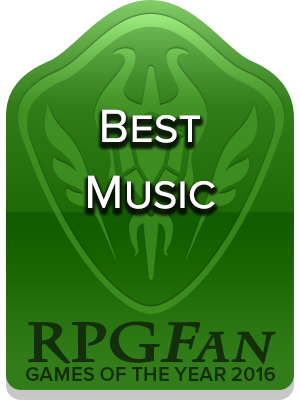 A multitude of Final Fantasy XV's aspects were changed during the tumultuous 10 years it spent in development, from its characters, to its combat, to its place in the Final Fantasy canon. But one aspect of it that seems barely to have changed is the music. Shimomura knocked it out of the park yet again with this soundtrack. Every single song in the game is expertly crafted and carries the charm that the musician is known for. Whether meant to evoke a mood that's haunting or quirky, relaxing or intense, no track feels out of place. Beyond Shimomura's amazing work, Final Fantasy XV goes the extra mile by letting you play a huge amount of tracks from the previous games in the Final Fantasy series while driving in the game's luxury car, the Regalia. Nothing beats listening to "Over the Hill" from Final Fantasy IX while headed to the next adventure with your bros. It is this combination of past and present that cements Final Fantasy XV's soundtrack as one of the greatest in recent memory.
Read our review of the Final Fantasy XV OST
Read our review of Final Fantasy XV
While it may not be everyone's cup of tea, Falcom music holds a special place in the hearts of many of us here at RPGFan. And Trails of Cold Steel and its sequel have some of the best music ever to grace a Falcom game. There are catchy town themes, beautiful field songs, and some truly epic battle tunes that accompany players as they explore Erebonia. We dare you to resist tapping your foot or bopping your head while listening to this soundtrack.
Note: Due to its late release on December 22, 2015, we were unable to include the first Trails of Cold Steel in last year's awards and still post them in a timely manner. Given that the two games are two halves of one story, we opted to combine them both for 2016's nominations.
Read our review of The Legend of Heroes: Sen No Kiseki OST
Read our review of The Legend of Heroes: Trails of Cold Steel
Read our review of The Legend of Heroes: Trails of Cold Steel II