I've seen VGM concerts in the past. Previously, the best one I'd seen was the PLAY! Symphony in Philadelphia in the summer of 2006. Who would've guessed that experience would be trumped by a piano solo concert starring the always-cheerful Kumi Tanioka? Hardcore Tanioka fans, particularly those who have seen her perform in the past, may have been the only ones to know how great this experience would be.
To the untrained ear, and the unattentive listener, perhaps this concert wasn't anything special. But for me, Tanioka-san's performance was brilliant. She was limited in her tools. Instead of a grand piano, all she had was a keyboard (albeit a very good, full-size weighted keyboard). The arrangements were her own, and she had no sheet music in front of her. She was probably trying to overcome jet lag even as she prepared for the concert that afternoon. But this exuberant young composer/arranger/performer, one of Square Enix's best kept secrets, shined bright on-stage at the Fan Fest.
But before she even got started, Tanioka opened the concert by announcing that she brought a video with her. The video was a "wish I was there" message from Naoshi Mizuta, the main composer for Final Fantasy XI and all of its expansions. Alongside his profuse apologies that he and the rest of the Star Onions weren't able to make the North American Fan Fest, he made up for his no-show status by announcing to the world, through that video, that a second "Star Onions" FFXI arranged album is in the works, with a planned release of Spring 2009. Everyone cheered at this (I'm convinced I was the loudest among them). After this video, Tanioka began her performance.
She started with a classic: Ronfaure. The area outside San d'Oria is beautiful, but it is perhaps best remembered for its music. Next to "Distant Worlds," this is the most frequently-arranged and performed piece from FFXI. And Tanioka did a fantastic job with it. The arrangement was grandiose, requiring much technical work for her hands. But Tanioka's concentration did not weigh down her expression during the performance. Indeed, the only time she's not smiling from ear to ear is when she's focused on the piece, and you can see her face expressing the whole range of emotions that go into the melody. This holds true for her entire performance, mind you.
Next, Tanioka performed another "outside-of-town" theme: Gustaberg. In my opinion, this is one of the best pieces from the original, two disc FFXI OST. Yet, it tends to get overlooked. There was a Star Onions arrangement of the piece that appeared as a bonus track on the Chains of Promathia OST, but other than that, we've been missing out. But Tanioka's piano arrangement was perfect. I was mesmerized by the performance. A friend of mine, sitting near me, commented after the show that my eyes were almost glazed over in a state of euphoria. And I hadn't taken any sort of hallucinogenic or narcotic substances that day, so it must've been Tanioka's performance.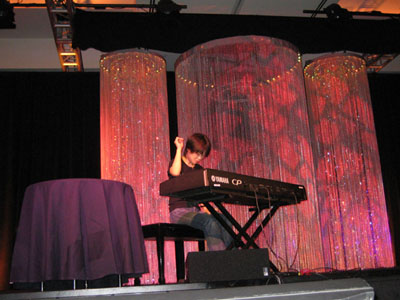 I'm gushing, I know, and I sound like a fanboy. But you would have been too if you were there and knew the original compositions. Each passing song held my attention, but I suddenly got excited when Tanioka switched it up to battle themes after the third performance, "The Sanctuary of Zi'Tah." We got to hear the last battle from the Aht Urhgan expansion, "Ragnarok." What a great choice! I was informed by other attendees that she performed this same arrangement last year, but that her strength and intensity, particularly with the left-hand octaves, was far increased for this performance. WOW! What a fantastic piece! I was bouncing, tapping my fingers and feet, imagining a full band behind her for the performance. Let's hope for an arrangement of this sort on the next Star Onions album, eh?
With her fith and "final" piece (she made a joke about this, knowing that an encore was expected), "Flowers on the Battlefield" from the Wings of the Goddess expansion was performed. This is actually a field theme, not a battle theme, but Tanioka's performance of Ragnarok still had me excited, and time passed quickly even through this slow lullaby of a piece.
For the encore, Tanioka came out to perform "Awakening," the final battle to the original plot arc for FFXI. This piece is a fan favorite; Kumi Tanioka's arrangement/performance almost brought a tear to my eye. She played the piece with intensity, yes, but at times it felt more like a dirge than a battle theme. You could feel the sorrow, even after she finished the song and stood up to give a bow and show her radiant smile.
To have one of Square Enix's in-house composers come out to do a warm, intimate piano concert for a few thousand fans who love her work was a real treat. In some ways, it's even more exciting than getting a full orchestra together, because the composer must now represent her work (and her peer's work) by herself. Speaking with other Square Enix employees, it was clear that everyone was excited to have her there. One Square Enix employee told me that it was just as much a treat for the staff as it was for the fans.
All that said, I felt there was only one thing I could do to show my appreciation for this woman's wonderful work, and taking time out of her busy schedule composing to do a little performance for the fans. I knew I would look stupid doing it, but I had to anyway. See the photo below: bow to the queen!