Thomas Boecker is a hero to the nerdy game-audiophiles out there. A native resident of Germany, Boecker (alternately spelled Böcker) has managed, promoted, and produced many concerts with the WDR (Westdeutschen Rundfunk) Radio Orchestra in Cologne (Köln), Germany.

Many of the concerts and recordings Thomas has collaborated on have been focused on game music. From Yoko Shimomura's "drammatica" to Chris Hüsbeck's (or "Huelsbeck's") "Symphonic Shades," the quality has been top notch, and the response in Europe and worldwide has been overwhelming, considering the niche nature of the music.

With the Square Enix-centric "Symphonic Fantasies" album looming on the horizon, and the Nintendo-centric "Symphonic Legends" concert happening later this year, we figured now was a good time to talk to Mr. Boecker about his experiences in the business and why he keeps coming back for more.



RPGFan:

First of all, our most sincere thanks to you, Mr. Boecker, for speaking with RPGFan about the projects you've worked on and are working on presently.



Thomas Boecker:

Thank you!



RPGFan:

Tell us a bit about your history; how you got involved in all of this. You started with the Merregnon CD projects, right? Can you tell our readers about this project and how you got interested in helping promote game music?



Thomas Boecker:

I like video game music myself very much. Therefore, I love being involved in its production and performance.

I first became interested in the genre thanks to Chris Huelsbeck's music, and in 1999, I finally took the step from being a listener to being a producer, initiating the "Merregnon" project, where video game composers such as Chris Huelsbeck, Yuzo Koshiro and Jonne Valtonen were writing music for a fictional fantasy story.

After the success of the first "Merregnon" CD, I decided to take a financial risk in order to further improve the quality of my project. In 2002, I hired an orchestra in Prague for the recording of volume 2. This is how I met conductor Andy Brick and orchestra manager Petr Pycha – two people who would be vital for the later five video game music concerts at the Gewandhaus Leipzig.

The CD was released in Germany initially; a bit later on, a Japanese edition was published as well. "Merregnon" is planned as a trilogy, and I hope that one day I will find the time to close the project as intended. It started my career and is therefore very close to my heart.



RPGFan:

Game music is a budding genre, like a younger sibling to film score. Yet, in recent years, there have been many successful concert tours and live albums featuring orchestra. Why is this? And more importantly, why now compared to any other time (past or future)?



Thomas Boecker:

Today, there is a market for it. I guess it is connected with the fact that the video game industry in general is growing and becoming an accepted part of daily entertainment. More and more people are aware of video games today. The development budgets for games are increasing, making live orchestra recordings possible. In terms of concerts, I think it needed some pioneers to push it. It requires a lot of persuasion, patience, and effort. When I started producing our first video game music concert, it was also the first time that somebody outside of Japan did something like this. A few people I was working with expected that perhaps 50 or 100 fans would show up at the concert hall. In the end, we had a sold out crowd of 2,000 attendees at our historical concert on August 20, 2003.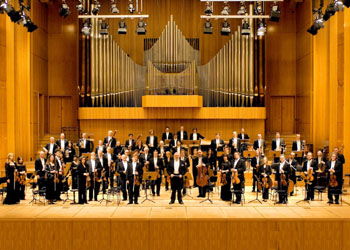 The WDR Radio Orchestra.
RPGFan: Based on your past work, it seems you have some experience breaking down the barriers between regional markets (Asia, Europe, America). What does it take to get Japanese and European composers to work together, and work with a primarily German orchestra? Can you share any stories about these experiences?

Thomas Boecker: Music is a universal language, and as long as both sides act professionally and have respect for each other, it is a great working relationship no matter the countries the people are originally coming from. Orchestras are pretty accustomed to working with international artists anyway. I remember that the musicians of the WDR Radio Orchestra were really excited and really enthusiastic about the recording of the drammatica CD. It was the first time they worked in the field of video game music.

Having said this, I think you are raising an important point regarding the concerts. Yes, there is some magic about it. In our booklet of the "Symphonic Fantasies" CD, Nobuo Uematsu is praising this as one of the project's strong aspects, too – bringing together exceptional artists from all over the world, performing music and broadcasting it live internationally. This rarely happens for any concerts no matter the genre, so I think the achievement for video game music is quite respectable.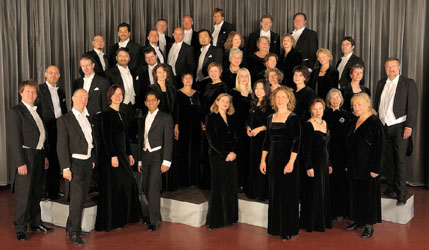 The WDR Choir.
RPGFan: Though you've worked on many projects, the one that is probably the most interesting to readers presently is "Symphonic Fantasies." It features music from Square (Enix) franchises, including Kingdom Hearts, Chrono Trigger/Cross, Secret of Mana, and Final Fantasy. We have a couple of questions for you about this project. First of all, how in the world did you manage to get these four composers to work together and agree to the concert and album?

Thomas Boecker: Except for Hiroki Kikuta, I knew the composers from past projects and concerts already.

If I have a plan, I go for it, doing my best to make it happen. Of course there are obstacles and of course not everything turns out as expected, but I do not give up on ideas just because they seem ridiculous at first.

All four composers are wonderful, kind people who obviously trusted me due to my past work, so they were very eager to help and support the project right from the start.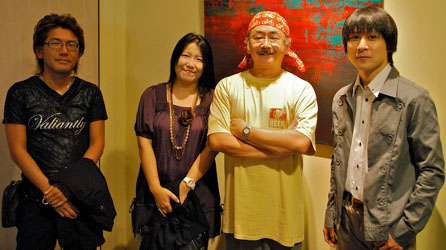 From left to right: Hiroki Kikuta, Yoko Shimomura, Nobuo Uematsu, Yasunori Mitsuda. We think someone should make an RPG about these four heroes.
RPGFan: Second, and perhaps just as important, was it difficult to clear things regarding royalties and such with Square Enix? You've worked with them before on "drammatica" – did this established relationship help to bring Symphonic Fantasies to life?

Thomas Boecker: Actually, I have been working with Square Enix since the first video game music concert in 2003. I had also been involved in Masashi Hamauzu's Vielen Dank CD as project coordinator in Munich in 2007, and I am the production consultant for the "Distant Worlds - music from Final Fantasy" tour. So we have some history together indeed.

Doing a concert featuring some music from Square Enix is actually not that difficult at all, but I agree it gets a bit heavier when trying to do an official Square Enix concert with all the music coming from this one company. Especially when going a completely different route than other events did before us. So yes, I believe that our relationship helped a lot to make "Symphonic Fantasies" a reality. I cannot thank Square Enix enough for their kindness!

RPGFan: The Hiroki Kikuta portion of the Symphonic Fantasies concert only includes music from Secret of Mana. Kikuta also did two other prominent works for Square in the 1990s: Seiken Densetsu 3 (a sequel to Secret of Mana), and Soukaigi. The choice not to include either of these titles in the Kikuta medley was due to... what? Is it because these titles were not published outside Japan? Or did Kikuta only want to work with the Secret of Mana tracks?

Thomas Boecker: It is easy to overdo things by adding too much content. I am not a big fan of medleys that just feature as many titles as possible. So for this main reason, we were aiming for a coherent experience with "Symphonic Fantasies" and thought that adding Seiken Densetsu 3 and Soukaigi would not really help to enhance the listening experience at all. It is great music, no question – and perhaps there is a chance to feature it in future performances?

I think Hiroki Kikuta likes that idea as well, as he was so touched by the "Secret of Mana" arrangement already.

RPGFan: Yoko Shimomura, whom you worked with on the drammatica album, was set for this concert since much of her music was already arranged. However, the choice was made to stick with Kingdom Hearts music. Is this because it's the most popular franchise among her works? We've heard some fans lament that no Parasite Eve or Mario RPG arrangements appeared on drammatica, nor are they on Symphonic Fantasies. Your thoughts on this?

Thomas Boecker: I can talk about "Symphonic Fantasies" only, because I was not involved in the music selection decision-making for the "drammatica" CD.

Our decision for the concert was made because we felt that Yoko Shimomura's name is especially connected with the Kingdom Hearts series, and because it fitted the best in our vision of the event. While some music is arranged for orchestra indeed, it has been never arranged the way we did it – in a grand piano concerto style featuring Deutsche Grammophon artist Benyamin Nuss as a soloist. Yoko Shimomura was very impressed by the splendid arrangement, as she called it, and of course the performance of our amazing pianist.

RPGFan: Long-time fans and collectors of Mitsuda's work are keenly aware of the lack of orchestrated music for the Chrono series. Officially, Chrono Trigger had a jazz album, "The Brink of Time," released in the 1990s, and Chrono Cross never had its own arranged album. Many live performances have been done by orchestral groups such as PLAY! or Video Game Orchestra, but as for official recordings, we've seen almost nothing. First, what will the Symphonic Fantasies medley offer that other concerts have not had? Second, do you think that the WDR's performance here will satiate the desires of Mitsuda fans who have longed for orchestral arrangements of Chrono themes?

Thomas Boecker: Yasunori Mitsuda himself told me that yes, music from Chrono Trigger and Chrono Cross has been performed before, but never in the quality that "Symphonic Fantasies" has to offer. What makes it so different is the approach of the arrangement. Where else can you hear the different melodies merged together in such a way, interacting with each other, being layered? This is no simple medley. It is an incredible suite of beautiful music, even featuring one of the world's finest percussionists, Rony Barrak.

Does it satiate the desires of Yasunori Mitsuda's fans? Yes, certainly, at least for awhile. But I am among the fans who wish for even more music in an equally sophisticated arrangement!

RPGFan: Who did the difficult work of deciding which tracks, from which games, not to include in the Final Fantasy medley? Everyone knows there are dozens of beautiful, memorable themes to play. Without giving away too much, which tracks are you happy made it into the medley, and are there any you wished had been included but couldn't due to time constraints for the concert and/or album?

Thomas Boecker: Like for all the tracks, we consulted with the original composers and asked them for their favorites. Later, we discussed the choices, brought in our own ideas and finally decided the way to go. "Final Fantasy" was the most difficult indeed, as one could guess that no matter what you do, you would leave out that one title that is so beautiful... or that other one... or that one! Or... you get the picture.

In the end, we decided for a mixture of titles that had never been performed before – or at least seldom performed – and popular titles. But there is no question that one could easily choose other tracks for a "Final Fantasy" medley, as there is so much material. Again, the trick was to arrange everything a bit differently from other concerts, like including the One-Winged Angel joke or the Main Theme featuring a full choir singing Latin lyrics. I think this made "Symphonic Fantasies" so unique, and Nobuo Uematsu stated that he never heard his music in such an arrangement style before. If a major Japanese composer is begging you to bring "Symphonic Fantasies" to Japan, you know you did something right.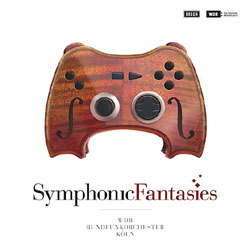 Symphonic Fantasies, in CD form. Coming soon.
RPGFan: When Symphonic Fantasies was performed live in 2009, the WDR official site offered a free, live stream of the event (video and/or audio) for those who could not attend. It's been announced that the Symphonic Legends concert, with a full line-up of music from Nintendo IPs, will offer this same service. The service is, again, freely offered. Why do you do it?

Thomas Boecker: The WDR is a public-broadcasting institution, in fact one of the biggest in Europe. If one of the ensembles, such as the WDR Radio Orchestra, is doing a production, policy is that it must be broadcast on radio.

However, live broadcasting – and especially live broadcasting via video streaming – are not a given. Thanks go to Mr. Winfried Fechner, the now retired manager of the WDR Radio Orchestra, who made this a reality. He is the one who deserves the flowers.

The live broadcasting is, in my humble opinion, an unparalleled opportunity, one that hardly can be topped. Being able to have fans from all over the world watching a live video game music concert of this quality for free and discussing the music live in forums is incredible and something the WDR should be very proud of.

RPGFan: We've heard that the Symphonic Fantasies CD was mastered at Abbey Road Studios in London. Combine that with the fact that the album is being published by Decca in Germany and, potentially, other Universal Music labels in non-European regions, and it seems this album is poised to make waves. What are you, and what is your group, doing to make sure this album reaches the widest audience possible?

Thomas Boecker: Please let me add, Square Enix will release the CD in Japan on their own label, distributed by Sony Music. The music content is 100% identical, while the CD package is different from the DECCA release. I am producing the CD for Universal Music, while I am the consultant for Square Enix's edition.

The DECCA release can be pre-ordered at the WDR Shop and Amazon.de already.

To answer your question, we work intensively. We put all our time, effort and money into making it possible. The goal for "Symphonic Fantasies" was simple, right from the start: this was supposed to be the performance of video game music in the world. Fans have to decide if we achieved our goal, but I think it underlines our passion. Arranging video game music the way we did, it needs a lot of true love for the art, it needs a lot of concentration, and of course a lot of skill.

The team is delivering the highest possible quality, and this way attracting major labels such as Universal Music who are gladly promoting a product of such excellence.

Let me put it straight: Jonne Valtonen, the main arranger of "Symphonic Shades" and "Symphonic Fantasies" changed video game music concerts forever. From my point of view he is one of the key people regarding this project's success, as scores with so much creativity hardly can be found anywhere else.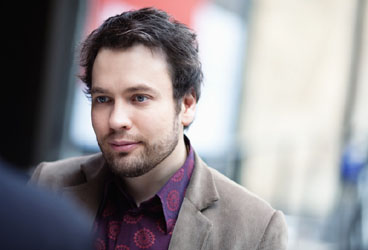 Arranger Jonne Valtonen.
RPGFan: Any thoughts on having concert DVD releases in the future?

Thomas Boecker: A DVD release is actually never out of question. I know it sounds quite boring, and it actually it is – but it comes all down to: is it really covering all the costs? I would love to have a DVD of the concerts myself, please believe me.

RPGFan: Though this isn't directly related to your project, we know that Benyamin Nuss (who works with the WDR Orchestra regularly) is doing a piano solo tour of Uematsu's music (including FF and other works). It is relatively easy taking one musician on a tour. What would it take to get an orchestra like the WDR to do tours across Germany? Across Europe? Across the world? How feasible are any of these options?

Thomas Boecker: It is not impossible; but it is very difficult for sure, and very expensive to do a concert tour. Maybe one day, yes, but at the moment I think concentrating on one or two concerts per year is not a bad idea for the WDR Radio Orchestra.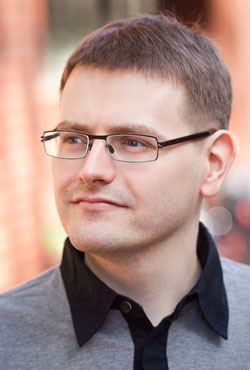 Boecker: The man with the plan.
RPGFan: The WDR Orchestra, with your help, has tackled Square Enix and Nintendo. What franchise, or what company, might be next for a game music project in the fine city of Cologne, Germany?

Thomas Boecker: We actually already announced Symphonic Odysseys for July 9, 2011 which is a tribute concert for Nobuo Uematsu. The concert will be conducted by Arnie Roth, and soloists Benyamin Nuss and Rony Barrak will join us again. Jonne Valtonen is going to be the main arranger – probably needless to say. Tickets will go on sale December 1, 2010.

I am always looking for new interesting and exciting challenges, but I am certainly not the type of person who keeps doing something only for traditional reasons. I have been coordinating video game music concerts since 2003. In 2012 I will organize my 10th annual concert, and I think that might be a good time for taking a break afterwards, at least as a producer.

Many many thanks go to Thomas Boecker and the wonderful composers, arrangers, performers, sound engineers, and everyone else that put work into the Symphonic Fantasies concert and subsequent album. Be sure to check back with RPGFan in September for our full review of the Symphonic Fantasies CD!