Hailed as a cult classic, Golden Sun can be best described as an elemental mishmash of beloved RPG conventions. An elemental quest? Check. Elemental powers? Check. Elemental summons? Check check checkarooni. But this poses an interesting question: What makes Golden Sun great if most of its elements (pun most certainly intended) are nothing more than mere rehashes?
I've got one word for you — immersion. From its stellar soundtrack to its puzzle-filled dungeons, every aspect of Golden Sun comes together to completely engross you in its ever-changing and dynamic universe. You are not a simple bystander watching everything unfold from the sidelines but an active participant in shaping its world. You didn't save Hammet? He's forever a captive and you missed your chance in obtaining the most powerful summon in the sequel. Forgot to save the tree girl from being swept downstream? She meets her watery demise shortly after turning back into a human. How surprisingly morbid, right?
But the two things that truly won me over were the summon animations and Motoi Sakuraba's emotive compositions. There's no better GBA eye candy than watching Judgment devastate the earth with a beautiful, glimmering light or see the Greek god of the North Wind be reduced to an oversized ice shaver. "A Little Friendship" and "Wintery Imil" are without a doubt my two most overplayed video game tracks of all time and it saddens me that there was never an official soundtrack released for any of the games. If Nintendo does decide to release them someday, you best believe I'll be the first in line to get my hands on it.
Being the game that sparked my interest in JRPGs, it's impossible for me to see Golden Sun without rose-colored glasses. Yes, it has its shortcomings. Yes, it does nothing in terms or reinventing the wheel. But, I still love and will forever love this game.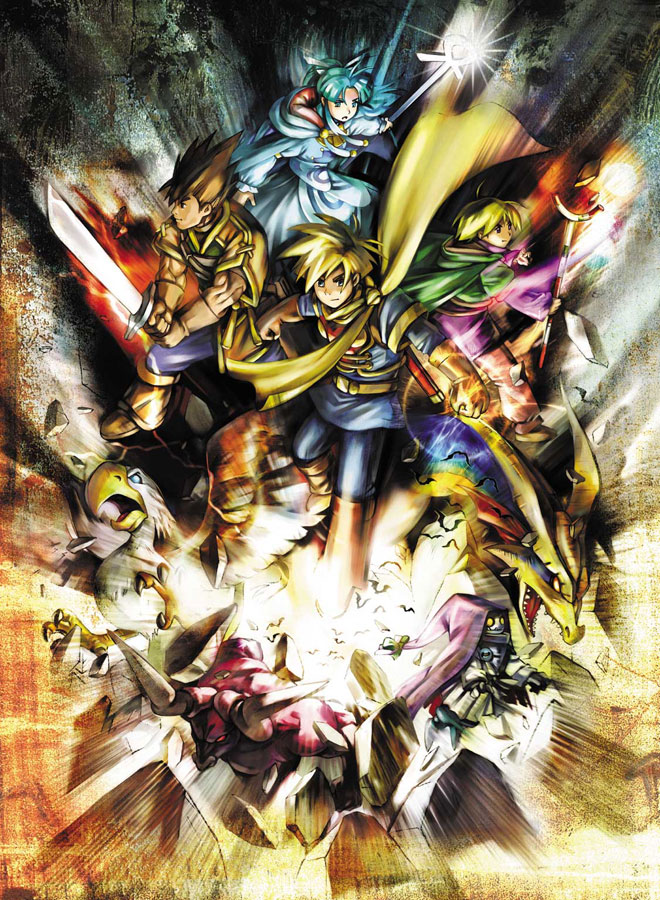 Playing Golden Sun was an unexpected joy because it took me back to my childhood, playing the sort of puzzle RPGs that got me into the genre in the first place. It's the type of game you don't see much of any more. So often, dungeons these days are just long gauntlets of random battles that you must wade through. The interactivity has been somewhat lost, at least in the Turn-Based JRPG genre.
Golden Sun is the definition of short and sweet; I finished in just 18 hours and never once felt the game was hitting a lull. The multitude of secrets and psynergy that make the world feel like one giant puzzle was just a delight to solve. Not to mention how awesome some of the Summons were. My personal favourite is the Mr Frosty-esque giant who turned a crank on his back to shower the enemies in deadly snow cones.
If I had any complaints, it would probably be regarding the lack of interaction between the party itself. There isn't a lot of opportunity for them to express their individuality, and coupled with a silent protagonist, I always felt like what was going with the "enemy" party was a lot more interesting. Though some could argue that is the point.
It's safe to say I had an absolute blast playing this game for the first time, and now I'm looking forward to playing the rest of this short series. Yes, even Dark Dawn.


When I first signed up to be on the Golden Sun episode of Retro Encounter, I wasn't quite sure what to expect. I knew many people on the RPGFan staff considered it one of their favorite games, but I had no idea how much fun this game truly was. After managing to get past the first few hours of the game, I found myself lost in a mystical world full of magic, puzzles, and adventure! It's really a shame that I missed this game upon release, as I'm sure young Keegan would have played this game day and night.
For me personally, I was really drawn in by the class system. At first, I was completely lost, having no idea which Djinn would effect which character. But after a few hours of experimentation, the system started making perfect sense, and I became more daring and bold with my classes. While I never felt like I "messed up" my classes, there were some choices that did feel inferior to others. If I'd had more time with the game, I'm sure I could have sunk even more hours into the class system alone!
My time with Golden Sun came to an end after 20 hours, which is a nice change of pace compared to the modern 60-100 hour RPG behemoths we see today. Even with such little time together, Golden Sun was truly a memorable experience full of quirky characters, stunning scenery, and a heartfelt story. I am a little sad to see Isaac and his friends go, though. Perhaps one day, we'll get to see another side of their story on Retro Encounter?
Only time will tell.