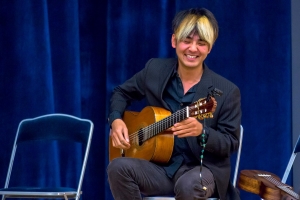 Shota Nakama is not only a talented guitarist, but also the mastermind behind the Video Game Orchestra, whose fantastic shows and recent success Kickstarting their first live album (in production right now!) were recently joined by their excellent work with Masashi Hamauzu and Square Enix on the Lighting Returns: Final Fantasy XIII original soundtrack. We tracked Shota down, and he graciously granted us some of his time to chat about the VGO's latest and greatest.
RPGFan: Can you tell us a little bit about your musical background? Training? How did you become involved in the game music scene?
Shota: I started taking some classical piano lessons back in Okinawa when I was 7 or 8 years old. This piano teacher lived like 30 seconds away from my place. The piano thing lasted several years, but I never really liked practicing. All because the piano in my place was in the living room right next to the TV and games... If you were me, which one would you pick, piano or games? Of course the latter! So I gradually stopped taking lessons. However, I went back to playing music when I met the music of Deep Purple. That really was it for me, and I began playing the guitar then. I think that was when I was 15, right before graduating from my middle school. I stepped into the game industry with my project, Video Game Orchestra. Before creating the project, I would say I was just a fan who loved the genre.
RPGFan: What are some of your favorite game soundtracks?
Shota: Dragon Quest and Final Fantasy for sure, since those are the games I grew up with. Aside from those, I love God of War, Chrono Trigger, Uncharted, Ni no Kuni, God Eater 2, and too many others to list.
RPGFan: Can you tell our readers (for those who are unfamiliar) a little bit about the VGO?
Shota: Video Game Orchestra is a Boston based ROCKESTRA consisting of a rock band, full orchestra and choir performing my arrangements of popular video games. I created the project back in 2008 and since then we have been actively performing in the US. We did a tour in China and are anticipating a few shows in Taiwan in the spring of 2014, too. I think our videos on Youtube can explain our musicality better than me trying to verbally explain our signature style. It is different from any other video game music groups and I am sure you guys would love it!
RPGFan: What was the genesis of the VGO?
Shota: In 2008, I was a student in Berklee College of Music and was involved with Video Game Music club there. I had an opportunity to listen to a lot of game soundtracks then. It was sort of like re-discovering what I loved when I was growing up, and I thought to myself "Maybe it would be really awesome and fun to perform these live." So the next day, I started look for players and put together our first show 2 months after that.
RPGFan: How did you end up working with Hamauzu-san and Square Enix on Final Fantasy?
Shota: Hamauzu-san and I have been really good friends, not just for work, but also personally. We don't just talk about games and music. We talk about our personal lives and everything — you know, we are just really great friends. Anyway, so one day he emailed me and said "do you wanna work on the project I am working on?" or something like that. Of course I said yes, and boom, it was the game.
RPGFan: Can you talk a little bit about what that process was like working on Lightning Returns?
Shota: The beauty of the internet is that you don't have to physically be at the same location to work on stuff! Everything was pretty much done by emailing each other but probably like 500 times, haha. First I received mockups Hamauzu-san made and a bunch of notes about what kind of scenes each piece is used for. Then I imported the MIDI files to Finale and started working on orchestrating them. When I was done, I would send him the pieces to get an approval. We did that back and forth until we were done with all the pieces. We booked recording sessions and gathered all the VGO folks to WGBH Fraser Studio. Hamauzu-san monitored the sessions online sometimes, but he left a lot of things to me. That's how he works, and he would not say anything unless he found something specific that he did not like — he's a really nice, easy person to work with. We flew him over to audit the mixes in Boston after everything was done, then we tweaked things here and there until we got approvals from the sound team in SQEX.
RPGFan: You've mentioned before that you'd love to incorporate some Lightning Returns tunes into the live show. What tracks would you most want to include?
Shota: I have to think about this, as the pieces have so many parts, and I need to figure out which ones can be condensed. But I would love to perform Lightning's Theme, Ending, and Opening.
RPGFan: I know it's early, but do you have any plans to collaborate with the Lightning Returns team again for an arrangement or piano album?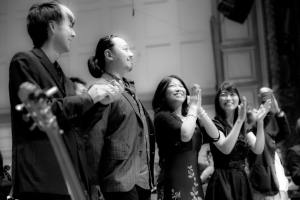 Shota: Haha, I cannot really say much about that right now, but I know Hamauzu-san likes doing that. Let's wait to hear his thought on this. I will actually ask him!
RPGFan: What was the recording environment like when you were working on Lightning Returns?
Shota: We recorded 95% of the stuff at WGBH Fraser studio in Boston. The studio is really big, and you can fit like a 60-piece ensemble in one room. They do a lot of film sessions as well as classical recordings. I think we were the very first group to do a video game music recording there. Anyway their main DAW is Nuendo, although they also have Pro Tools. Other than that... I am totally not the best person to ask about the gear and etc. (laughs) They have all the gear listed on their site, so please go and check it out! We also used Cybersound, which also is in Boston, for some solo vocal/instrument recording. We recorded the solo violin part for the ending piece while Hamauzu-san was in Boston. Sho Omagari, who was the concertmaster for Live at Symphony Hall, came into the studio and completely NAILED the solo in one take. Then Hamauzu-san looked up and said "It was too damn perfect... just hit the playback so I can listen again," with a huge smile on his face.
RPGFan: You've expressed your excitement at being able to work with some of the best composers at Square Enix, and I think it's clear that enthusiasm was a powerful contributor to the high quality of the Lightning Returns OST. Going forward, how do you think this interplay between composers and talented groups like VGO can energize the VGM scene?
Shota: I think there is still a long way to go for video game music to have the same kind of recognition as film music and other genres of music. So there should be more collaborative efforts between groups like us and the composers or even the companies to help the industry.
RPGFan: The state of the game music industry has changed so much. Fan arrangements, remixes, live shows and orchestral concerts are all becoming more and more common (yay!), and it seems as though more people than ever are appreciating the value of game music thanks to so many talented people. Do you have any thoughts on this, as a part of that force?
Shota: The majority of the general public used to imagine NES or Space Invader or something like that when they hear the phrase "video games," and the same goes for the music. However, the video game industry has gotten so much bigger, and nowadays every kid is playing games either on a console, smartphone, tablet, or maybe all of them. So I think video game music became what we naturally enjoy listening to. And obviously the continuous effort that was made by Koichi Sugiyama, who produced the very first video game concert ever, has a significant influence on this, too.
RPGFan: What's in the future? Do you see the VGO continuing to put on shows and growing in size?
Shota: First we have our PAX East performance. PAX is something special we have to perform at every year! I love them and love performing there. We are right now playing around with some show ideas — maybe we should focus on a company, specific composer, indie games, etc. I would love to hear what kind of concerts you would like to see! I am also in discussion with a company in Japan to arrange and record their game's soundtrack, and this one super huge, too! I can't say anything about those yet, but I will let you know as soon as I can.
RPGFan: As a backer of the Symphony Hall album, I'm very impressed with the backer pre-release. Can you talk a little bit about that experience? Do you think you'll attempt another live recording someday?
Shota: Thanks, and yes, of course we are planning more recordings! I actually want to do even a bigger show with a few more additional members to the rock band section. That would be the most ideal format of the group for me, and when that happens, yes I totally will record it live!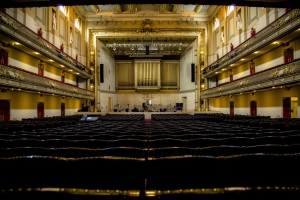 RPGFan: When the VGO puts on a show, are there licensing issues involved? I'd imagine the process is different if you're not planning to record an album, which is where it seems like a lot of the production effort on the Symphony Hall album has gone. Does that affect how you choose what tracks to cover?
Shota: Actually, we have been fortunate to have very good relationships with a lot of composers and video game companies. But yes, on rare occasions, it narrows our choices down. However, it probably is still a whole lot easier than doing the same kind of shows in Japan. (laughs) I have heard some ridiculous stories over there.
RPGFan: Speaking of that, if there were no issues in the way at all, what games and tracks would you like to include in a future show?
Shota: I would actually love to do an all indie video game music show. Not that they won't license us the music — I just think the indie scene has grown so much that we need to see some epic things happen.
RPGFan: Are there any other composers you would like to work with on creating a game soundtrack?
Shota: Oh man, this list would be ridiculously long... But yeah, I would like to work with a lot more western games like God of War, Halo, Blizzard games, and all. For the Japanese ones, Dragon Quest would be ridiculously awesome!