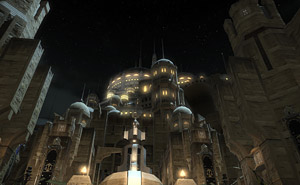 Masayoshi Soken is the maestro behind the hugely successful relaunched and rebranded Final Fantasy XIV: A Realm Reborn, as well as earlier Square Enix titles like Front Mission 5: Scars of the War. Although exceptionally busy producing new music for the ever-growing world of Eorzea, Soken-san was gracious enough to take some time and answer our questions about his work on A Realm Reborn.
RPGFan: Can you tell us a little bit about your background? What kind of musical training do you have? How did you become involved writing music for video games?
Soken: My father is a trumpet player in a symphony, and my mother taught the electric organ at our home; so I've been enveloped by music ever since I can remember. I've been playing the piano since I was 3 years old. I didn't study anything in particular for writing music, though. (I studied chemistry in college, and I was making dyes that you can paint directly onto plastic bottles.) Personally, I think that the best way to know music more deeply is to listen to as much music as possible, and take advantage of that emotion that's stirring inside you.
RPGFan: How do you approach a new project? Do you start with an idea in mind and work with that, or do you generally work based off what information the developers give you?
Soken: It varies completely depending on the situation of the project, or even the situation of the moment. If there is clear direction, I will create accordingly, and if I'm told "you're free to do what you want!" then I would suggest ideas of my own. Whether it turns out good or bad in the end is definitely "whether or not the music is good," but more importantly, it's if the sound matches the game and the particular scene in which the song is placed.
Listen to the city of Ul'Dah's night-time theme!
RPGFan: If there were no obstacles in your way, what would be your dream "collaboration" job (working with other composers or musicians)?
Soken: I would love to ask Tom Morello from Rage Against the Machine to provide his out-of-this-world guitar solo, and THEE MICHELLE GUN ELEPHANT's Futoshi Abe's high-speed palm mute technique to bring out the depth and punctuation to the song! Futoshi Abe has passed away, though...
RPGFan: What kind of music do you listen to? What are some of your favorite artists or groups?
Soken: I love the sound of a live band. (The only t-shirts I own are of bands.) When asked what my favorite is, I would immediately answer Rage Against the Machine! They're so awesome; it's as if my body and my brain melt when I listen to them!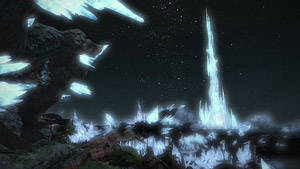 RPGFan: What are some of your favorite artists and composers? Any favorite songs?
Soken: If I was to list names of composers, I would say Antônio Carlos Brasileiro de Almeida Jobim (also known was Tom Jobim). From melody, to chord progression, to notes within the chords, no matter which aspect you examine, they're so out-of-this-world, but very beautiful. I wonder if I can write songs like these if I were to live in Brazil?
RPGFan: What is the most rewarding part of being a composer for you?
Soken: Rather than just as a composer, since I also handle creating sound effects, recording voiceovers, as well as system engineering, it's very rewarding for me when I hear music, sound effects, environmental sounds, voiceover, and jingles that I've created on a system I built ring out effectively within the game. Another thing is, of course, when I receive encouraging messages from the players.
RPGFan: How did it feel to be able to work on a mainline title for such an iconic series known for its amazing music?
Soken: I think if I took the time to look back, I'd be able to realize that I worked on a numbered FINAL FANTASY title and tell you how I feel; but right now, I have a large amount of sound requests from FFXIV as well as recording for another title, creating sound effects, improving the Square Enix sound engine, and so forth all at the same time, and so if these don't settle down, I can't take the time to look back... in other words, honestly, I still haven't come to the realization that I worked on a numbered FINAL FANTASY title.
RPGFan: The Titan boss battle theme is an exciting piece of music! The dynamic nature of it really heightens the drama of the battle with him. How did you come up with that concept? Did you work with the development team to implement it? Would you like to try a dynamic theme like that again?
Listen to the Titan battle theme's dynamic changes based on your progress!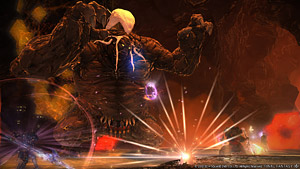 Soken: Every song request for FFXIV: ARR comes with detailed instructions. However, the Titan theme was the only one that they told me "you can do what you like"! I asked the requestor a few times, "Are you sure it's okay? If you let me do what I want, it may deviate from the image of FINAL FANTASY, you know?" But they would always reply, "It's fine. Soken, you can do what you'd like to do." When I started working on creating the song, the Titan battle wasn't operational yet, and so I would walk over to the Battle Team to ask for information, and I would imagine how the battle would play out in my head while I wrote the song. Giant boulders, boiling lava, an incredibly strong opponent, but with a sort of indigenous feel... when thinking about making those images come to life, the first thing that came to mind was a song by THE MAD CAPSULE MARKETS called "WARDANCE." This song as it is would be much too cool, so I brought more of the indigenous feel out, and reflected a request I received from the Battle Event Group, which was "we'd like something that's like a Kecak dance (a form of Balinese dance and music drama)," and ended up with what we now know as the Titan theme. Game music only comes to life when it matches with the gameplay experience. And so, if there are more in-game instances in which songs in this vein match to the game content, I would love to work on it again!
RPGFan: Knowing how people get attached/nostalgic for classic music, how did you approach the composing for Crystal Tower?
Soken: Personally, I think FINAL FANTASY music is Uematsu's music. And I also think the definition of "this is FF" is no longer in the hands of the creators, but in the hands of the players. So I swore in my heart to "make it cool, no matter what"- for Uematsu, and for everyone. I believed in my sensibilities of what's cool or not while I worked on the song.
RPGFan: What are some of your favorite tracks that you composed for FFXIV (either 1.0 or 2.0)? (we know there's a lot to choose from!)
Soken: I would say "Torn from the Heavens," which I ended up making various different versions. (For the Benchmark trailer, or Gamescom, and so forth...) It all started with the PV (promotional video) for Gamescom 2012. The development team said, "We're going to show FFXIV: ARR gameplay footage for the first time at Gamescom. So we're going to make a video specifically for Gamescom. The video will be about 15 seconds long, so could you add some sound effects to it?" I thought, "OK. I'm pretty busy, but if it's just a 15-second sound effect, I can work some overtime and do this." Then it became, "Sorry! We told you 15, but it's looking to be 45 seconds..." Then I thought, "If it's going to be 45 seconds long, I wonder if it'll be an effective video with just sound effects...?" Then it became, "The video is done. Could you add sound to this?" My reaction was, "Whooooooooaaa, it's 3 minutes long, darn it!!" When I was creating this song, the development staff members for art and music were all approaching the end of their tasks for the old FFXIV, and were switching over to tasks for ARR, determined, like, "let's tackle ARR!" so I put in my own feelings of "let's go, FFXIV: ARR!!!" when I made this song. To make it the face of FINAL FANTASY, I added the Prelude melody into the more aggressive parts of the song to infuse the sense of pressure I'm putting on myself that "hey, this is FINAL FANTASY, too; do you understand? It's super gnarly"
RPGFan: Are there any other classic songs you'd like to arrange for special scenarios in FFXIV? Dancing Mad, or maybe the Red Wings theme?
Soken: If there is in-game content like that, I would do as many as they ask for! But, no matter how cool the arrangement is, I won't be able to beat the original! I say that because the sound of the original song is etched into the hearts of all of you. But I'm the type of person who loves to take on a difficult challenge, so if I do get the opportunity to work on something like this, I would give it my all to create the arrangement. Oh, that reminds me. There will be classic FINAL FANTASY music arranged for Patch 2.2! I went in to the arrangement head-on and no-nonsense. I hope you look forward to it!
Listen to one of Soken-san's Crystal Tower battle themes, which premiered in patch 2.1!
RPGFan: Can you talk a little bit about the All Saints' Wake (Halloween) and Starlight Celebration (end of year holidays) music? How do you approach tunes like that with a seasonal motif?
Soken: These songs are from the old FFXIV, plus they were created by Uematsu, and so I'm afraid I do not know what the intention of the creation was, and what not.
RPGFan: Do you anticipate being involved with future expansions for FFXIV?
Soken: The Twelve only know!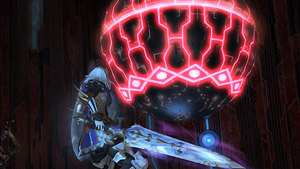 RPGFan: Do you expect there to be an eventual album release for A Realm Reborn, much like 1.0 had Before Meteor? (Editor's note: at the time of interview, Square Enix had not yet announced a release date for the A Realm Reborn OST)
Soken: I am working on it full-force! It's such a large volume of content, that we plan to put it on a Blu-ray, like we did for "Before Meteor," but we're already over capacity. Right now, we're trying to figure out "is there any way we can contain everything," while we struggle with the music files. The MP3 data that we plan to include in the disk is over 8 hours total...! It's insane!
RPGFan: This isn't a question, but I just wanted to congratulate you on an amazingly well-done job on the ARR music (and of course, your tracks from 1.0!). It's one of the most exciting and vibrant Final Fantasy soundtracks in years, and I had scores of readers, friends, and people on Twitter all telling me to say "your FFXIV music is SO GOOD!!"
Soken: I'm really, very, very happy to hear that. Thank you so much! I worked on sound creation keeping in mind how sound design should be in a game that would be played for extremely long periods of time, like an MMORPG. I applied this to not just the music, but also sound effects, environmental sounds, voiceovers, and all other sound elements. And we are working hard to provide a more exciting gameplay experience, and to make FFXIV even more enjoyable than before, so your support is greatly appreciated! I'm afraid I can't respond very much when I'm busy, but I am looking at all of the messages I receive on Twitter!