October 15, 2015 – Mike Dietz is a talented artist who's made his mark on the gaming world on multiple occasions, including the classics Earthworm Jim, The Neverhood, and Skullmonkeys. In addition, he's worked on a host of non-gaming projects over the years, including "Abed's Uncomfortable Christmas," the stop motion animated episode of Community. Recently, Mike and a small team at Pencil Test Studios released a stop motion animated adventure game named Armikrog, and Mike was kind enough to take some time to answer a few questions from us about the game.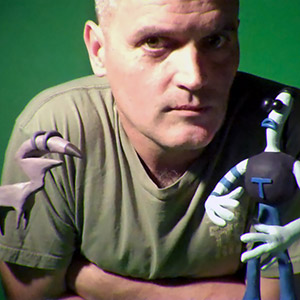 RPGFan: Were you excited to work on another project with similarities to Skullmonkeys and The Neverhood?
Mike Dietz: Absolutely. We've been wanting to do another stop motion animated adventure game for a while now. After the Neverhood and Skullmonkeys, I had opportunities to work on a lot of stop motion film, television and commercial projects, but no stop-mo game projects since then.
RPGFan: Did you have any concerns about returning to the art form, given the current state (and expectation) of graphics and animation?
Mike: No, in fact it was really exciting to return to the art form knowing how far tools and technology have advanced in the intervening years. We were very limited by the tools and the hardware back when we created the Neverhood, so it's been nice to work with higher resolutions, greater color depth and more powerful tools that show off the beauty of stop motion so much better today.
RPGFan: What challenges do you face with producing this type of animation for an interactive video game?
Mike: Well, the biggest challenge is the fact that everything in the game is a real world object that has to be constructed and photographed before it can be included into the game. It's a very time- and labor-intensive process, and dealing with real objects means you are also dealing with real world physics — there are no cheats.
RPGFan: Was the choice to produce another claymation animated game dictated by the possibility of retaining past fans of Skullmonkeys/The Neverhood? Or perhaps in hope of releasing a game that could stand out against the current visual norm of digital titles? Both?
Mike: Definitely both. Fans of The Neverhood and SkullMonkeys have contacted us quite a bit over the years asking for sequels or at least more stop motion games, so we wanted to make another game like this to satisfy them. We're fans ourselves of stop motion too, so selfishly we wanted to see another game like this.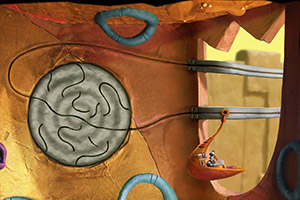 RPGFan: Tommynaut shares some physical similarities to Klaymen. Was this a nod to Neverhood, or a technical choice?
Mike: Tommynaut was designed by our colleague Doug TenNapel, who also created Klaymen. Doug has a very distinct art direction style, so the similarities make sense. Personally, I enjoy animating characters with that tubular head/neck that Doug likes to design (Doug also created Earthworm Jim), so Tommynaut was definitely a fun character to animate.
RPGFan: Were there times when this method of animation clashed with any intended gameplay mechanics?
Mike: Not really, mostly because we were designing the game with the art style in mind. The biggest gameplay restriction you run into with this style is the inability to really fly the camera around in real time, but this is a quieter, more cerebral type of game that didn't really call for those type of camera moves.
RPGFan: You've got some fun actors in your voice cast — I'm a huge fan of Rob Paulsen in particular. Did you have any of your voice cast in mind from the beginning, or did you select them later as you saw the way the characters were developing?
Mike: We've worked with Rob Paulsen in the past, and he's super talented and fun to work with, so we knew we'd want him no matter what. Rob and the other members of the cast came on early, just as the characters were being developed, so it was a pretty organic process deciding who would voice each character.
RPGFan: Now that you've been through the process, how do you feel that Kickstarter compares to the process of making a game through the classic developer/publisher model? Would you use it again?
Mike: Kickstarter was great, but like anything else, it has its advantages and disadvantages. The biggest advantage was the fact that no traditional publisher was interested in producing a stop motion game like this, so the game simply wouldn't have happened without the Kickstarter backers. It also provided us with direct access to the fans before and during development, which was a new and welcome way of working for us. We met a lot of great people along the way.
RPGFan: Any new plans now that Amikrog is available to the public?
Mike: We still have a lot to do with stretch goals and backer rewards for Armikrog, but we're working on a few different ideas on what we'll do next. However, nothing we want to announce yet.
RPGFan: Thanks for taking the time to answer our questions. Knowing how stressful a game release is, we hope whatever you've got coming up next, you'll have a little time off to recuperate!
Mike: No rest for the weary, at least not yet!