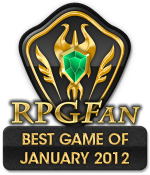 While it's true that there were only a few games released in January of 2012, Final Fantasy XIII-2 stands as a quality title with fantastic production values. Its predecessor may have been one of the worst-received Final Fantasy titles ever, with its maddening linearity, hand-holding, and one-dimensional characters. Square Enix went back to the fans with Final Fantasy XIII-2, and it's been improved in many ways: exploration, quicker combat, and (slightly) better characters. It's not an RPG masterpiece by any stretch of the imagination, but it's certainly one of the better big-budget titles we've seen in a while.
The most enjoyable part of Final Fantasy XIII, the combat, has been revamped with XIII-2. Managing only two characters via the Crystarium makes leveling a much more streamlined endeavor and the addition of monsters to fill the third slot also gives depth without requiring complete recustomization of your party.
Exploration has been revamped as well, and while the individual maps are still relatively linear in scope, the ability to travel between times and explore different versions of the world is very reminiscent of fan favorite Chrono Trigger. Some of the additions, like the ability to jump, are negligible, but simply placing the structure back into the tried-and-true JRPG is enough for most fans.
It's not the best Final Fantasy there ever was, but with these improvements, it's far from the worst. We can only hope that the hinted-at Final Fantasy XIII-3 makes even more strides and gives us the game that we all hoped Final Fantasy XIII would be.