Crowdfunding Chronicles Volume 15 - 6/29/2019
Battle evil vegetables, watch romance bloom, or study quail in this week's edition.
06.29.19 - 3:33 PM
Summer has arrived, along with several new crowdfunding campaigns! If the great outdoors is becoming a little too hot, sunny, and mosquito-filled to bother with, the beautiful environments in these games will surely make for a more comfortable alternative. Pour yourself some iced tea, turn on the fan, and enjoy.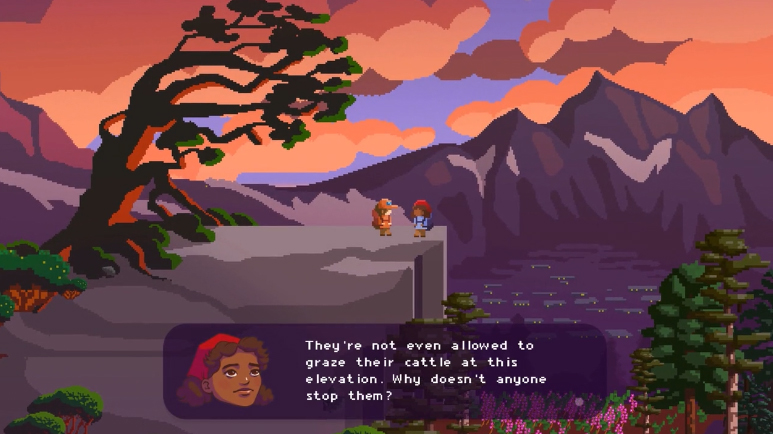 Platform: Web browsers (for both desktop and mobile).
Having a lifelong interest in biology, I always enjoy seeing video games that aim to inform players about the natural world. Grace happens to fall into this category; it's a short, casual game centered around birds and conservation, developed by Swampa Studios (a team of two, including an ecosystems scientist).
The game's story involves two field technicians based in the Sierra Nevada, and their discovery that something is interfering with the nesting habits of the fictional Ruddy Quail. While trying to come up with a solution, disagreements arise between the two technicians, and players will need to handle this. Will you involve the townspeople or continue studying independently? Players will also be tasked with collecting additional data and identifying various plant and bird species throughout the game.
So far, I really like what I see of the Grace's pixel graphics, particularly the cute (and accurate) bird designs. Most of the campaign funds will go towards hiring artists for the in-game bird field guide. As a casual wildlife artist myself, I definitely look forward to seeing what other illustrators come up with. Additionally, the in-game environments are meant to accurately portray real-world locations.
Grace is the first game from Swampa Studios, and if it proves successful, the developers have plenty of ideas for more expansive environmental games in the future. Personally, I would love to spend a few afternoons with the birds in this game, and look forward to seeing what else is in store!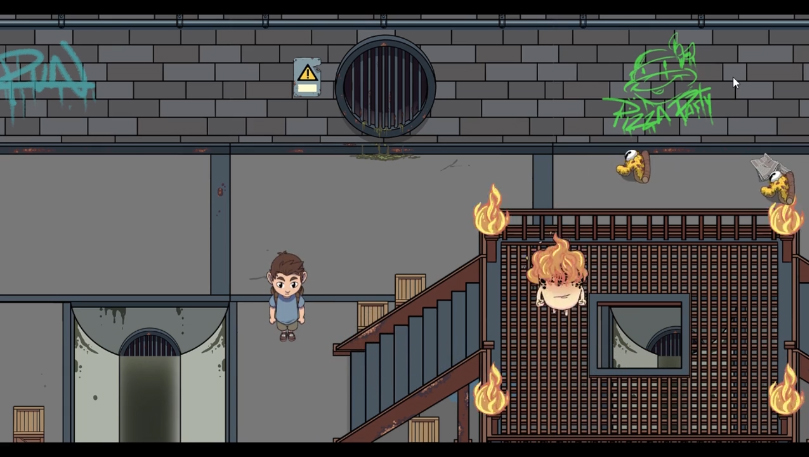 Platform: Windows, Mac and Linux. Stretch goals add PS4 and Switch.
I have a well-documented dislike of vegetables. Perhaps you do too! If you, like myself, have a burning need to launch various projectiles at carrots and broccoli, this game will be relevant to your interests.
Munchsters is a Zelda-inspired action RPG being developed by a small team from the Dominican Republic. It follows the adventures of a young boy named Goo, on a mission to save Munch Island from an army of evil food monsters. The idea for this story came from the lead developer's childhood dislike of vegetables, and, as mentioned above, I'm sure some of us can still relate.
The game is described as a "shooter RPG," as you fight using an arsenal of bizarre projectile weapons. Explore the open world setting of Munch Island, either on foot or with a handy skateboard, as you try to locate the eccentric Dr. Wes. Could he be the one behind the appearance of all these food-based monsters...? I'm betting the answer is a resounding "yes." In addition to the main campaign, you'll also be treated (heh) to a number of open world staples, such as crafting, side missions, and searching for collectibles.
Not to be overlooked, the game's vibrant, animated art style should definitely appeal to fans of Earthbound and Nickelodeon cartoons. Stranger Things fans may want to check out the artbook preview on the campaign page as well; the Demogorgon has some terrifying new competition in the form of a...Demohotdog.
Platform: Windows, Mac, and Linux. Stretch goals add Switch and Android devices.
It's been a little while since Crowdfunding Chronicles has covered any traditional visual novels, though the soft, shoujo-manga art style of Silver:Line really caught my attention.
The game takes place in a fantasy world with European and Asian influences. You can choose to play as either a male or female character and romance any of the available NPCs regardless of your choice, though your gender will still have an impact on your companions' reactions and various event scenes. As well, in a bit of a twist, rather than playing as the main hero of the story, you take on the role of a supporting character in a group of adventurers, consisting of warriors, wizards, a scantily-clad male merchant, and others. Your choices will influence how their adventures turn out!
Silver:Line features around 10 hours of gameplay, with the first 2 hours available for you to try in the demo. Most pledge levels include a number of digital or physical goodies, and, with a bit of a fee, backers can add extra physical items to their pledges (even if the original pledge was a digital-only tier). If the artwork is appealing, you can treat yourself to keychains, pins, and even a wall scroll of a handsome shirtless gentleman.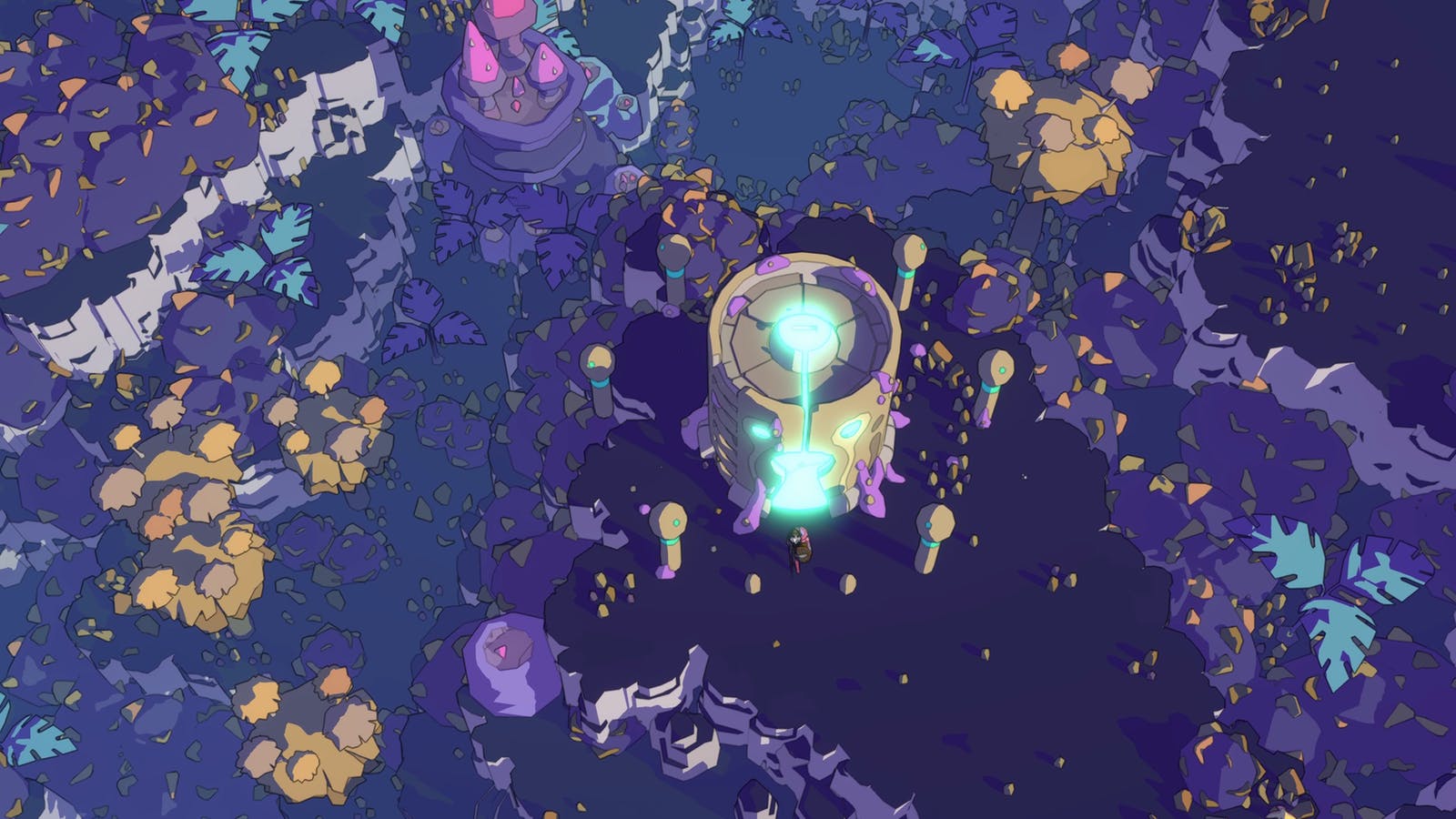 Platform: Windows. Other platforms may be considered in the future.
Unexplored 2: The Wayfarer's Legacy is a beautiful roguelite action RPG with procedurally generated areas and events. Although a sequel to 2017's Unexplored, this game can be played without any knowledge of the original. Additionally, moving on from the dark, subterranean locales of its predecessor, Unexplored 2 introduces players to a huge and visually stunning overworld.
The main storyline in this game is centered around destroying the Staff of Yendor, though each playthrough features a number of randomly generated events and unscripted stories. As in many roguelikes, Unexplored 2 does feature permadeath, though after your untimely demise, you can choose to play as a new character in the same world. Your decisions and effect on the environment will impact all subsequent playthroughs unless you choose to restart in an entirely new world. If you accidentally wipe out a village, it won't magically reappear for your next character.
The campaign for Unexplored 2 is being run through Fig's Open Access platform. There is no set end date, and funds are being allocated towards various milestones, largely consisting of in-game challenges featuring new creatures and locations. The main reason the developers chose to go this route is to seek player feedback: the game is quite large and ambitious, a considerable step up in this regard from Unexplored!
Finally, as a fan of sci-fi artist Moebius and Hayao Miyazaki's Nausicaa, I must say that the colorful artwork and environments in this game are an absolute dream. Be sure to check out the Instagram account of art director Hendrik Visser for a plethora of wonderfully strange concepts!
We covered Sin Slayers (Campaign Page), a dark Medieval fantasy RPG with pixel graphics, back in Crowdfunding Chronicles vol.10. Sadly, the game's campaign was unsuccessful, but there is still hope! Sin Slayers can now be pre-ordered through the developer's own website, with three different packages to choose from. Additionally, a new recruitable Warlock character will now be available in the full game. Find out more in this Kickstarter post!

Disclaimer: While it's possible some of us at RPGFan may be backers of the games mentioned in these articles, this does not influence our coverage or our featured game choices. We make our selections simply based on the active campaigns we feel our readers might find interesting, and we are not given special access or perks by the developers.

tl;dr: We think these games show potential and want to share them with you.