E3 2019: Knights Chronicle Hands-On Impressions
A look at the game on its 1 year anniversary.
06.24.19 - 12:41 PM
Released just one year ago, Knights Chronicle has quickly become quite the contender for your time in the mobile space. From its turn-based battles to the sprawling world map, there's no shortage of things to do in Knights Chronicle, and during a recent hands-on event at E3, we were shown why this free-to-play mobile MMORPG is gaining popularity so quickly.
Available on both iOS and Android platforms, Knights Chronicle provides unique features such as real-time party play, allowing up to five players to squad up and take on the game's many challenges as they see fit. Players can also take part in social features such as PvP battles and guilds.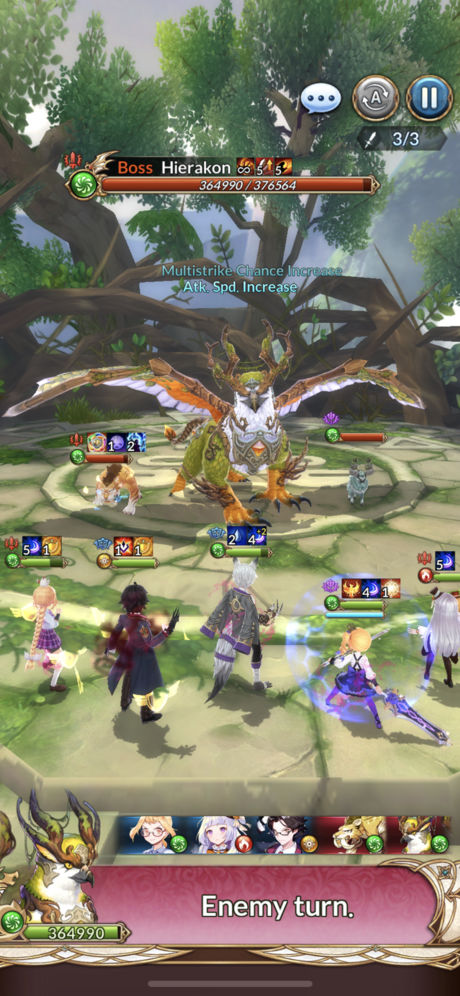 Battles are entertaining, thanks to the flashy and exciting 3D skill animations which fill the entirety of the screen and deal massive damage to opponents. Upgrading character skills and equipping runes allows characters to thrive on the battlefield and offers various boosts to abilities, attacks, and more.
In addition to the beautifully rendered characters, environments, and enemies, Knights Chronicle stands above similar titles in many ways. Perhaps most remarkably, the game stands out by offering frequent crossover events with popular anime, manga, and game franchises. So far, series such as Yo-kai Watch, Fullmetal Alchemist, and Fairy Tail have been featured, bringing popular characters like Jibanyan, Alphonse Elric, and Natsu Dragneel into Knights Chronicle's perfectly matched anime art style.
At a glance, Knights Chronicle might seem like just another gacha game vying for your mobile affection. But players will surely want to take the time to delve deeper into what's on offer so they can understand the full breadth of combat, social features, and even crossover events that ultimately make Knights Chronicle a title worth checking out.