Bye Bye, Steinman
Be happy, old friend.
03.21.18 - 10:08 PM
Well, here it is. This is a moment that I kinda knew was coming at some point in the near future, but it still hurts quite a bit all the same. Yup, that's right, I'm retiring from RPGFan effective today. This has been an extremely tough decision to make, as I've spent the past eight years of my life working in some fashion for this site. At the same time, life situations change, new responsibilities in the real world take over, and we all have to reevaluate just how much time we're spending on various aspects of our lives. It's always been a sore spot for me that I haven't been able to update Random Encounter more regularly, which that means it's time for me to get out of the way and let someone else take over and push the show forward.
It's hard to believe that this all started when I decided to write a brief review of Demon's Souls and submitted it to RPGFan during one of our hiring drives. I never imagined it would lead to me contributing reviews, much less starting our first podcast and eventually getting a chance to experience the incredible spectacle of E3. I got to meet and rub elbows with industry people, which is something I only dreamed about when listening to 1UP Yours way back in college and graduate school. But really, those are all just perks compared to the wonderful friends I've made working here. Getting to meet everyone in person stands out as some of the happiest moments of my life, and I can't thank everyone here enough for all their support, candor and immense patience given how emotional I can get at times. Everyone on this site pushes each other to be better in every possible way, and it's an experience I wouldn't trade for the world.
I leave the microphone to Derek Heemsbergen, who's been recording with me since Episode 5, if you can believe it! He's going to make a fantastic host, and I'm honored to call him both a colleague and friend. He'll probably make some changes, sure, but he has all my confidence and I'm sure we'll see great things from him. He's even offered to let me stop by occasionally, so I doubt you've heard the last of PaleRobbie on the boards.
I guess the last thing I have for everyone is a little advice; don't be afraid to put yourself out there and try something. If you've got some passion, drive and grit, it's pretty amazing where you can end up. I never thought this kind of experience was possible, and it certainly wouldn't have happened if I didn't give it a shot and put myself out there. You may not always find success, but you can't get better without at least trying. I look forward to seeing all the new blood coming in to RPGFan in the future, and I'm excited to see where it takes the site.
Thanks for listening. I'll see you all later!
Robert Steinman
Mike Salbato adds:
Rob got through a goodbye post and didn't even mention Dark Souls? Unbelievable.
Seriously though, Rob is going to be missed around here. I've known for awhile he was weighing this decision, and his love for RPGFan and our staff is what made it so hard. We all joke around with him plenty – easy to do when you've known a friend for the better part of a decade, and he's a good sport about it. And while I will continue to make Dark Souls and dad jokes in private, I want to be sincere here.
Rob came to RPGFan in 2010 as a reviewer, but he also wanted to help us start a podcast, a medium that was continuing to gain momentum, but we didn't yet have anyone committed enough to bring us into that space. He didn't do it alone, of course; I'm forever grateful to Zachary Pintchik, Stephen Meyerink, and Derek Heemsbergen for being so instrumental in those uncertain early days of Random Encounter, and their efforts to keep it going.
But Rob was still the host: No matter the cycling panel of co-hosts and guests, Random Encounter was always "Rob's show," and I can't thank him enough for his time and efforts over the years in keeping it running. Today, we have a Twitch channel that's growing more and more popular, we have three podcasts (yes, one is on hiatus, but stay tuned), and a presence on most social media sites. Sure, they're all vital no-brainer aspects of a modern site, but for a 20-year-old site, sometimes it takes time to spin these things up. Random Encounter was the catalyst that I trace a lot of our "new media" growth to. Rob didn't just kickstart a podcast, but a wave of other branches of RPGFan that have kept us relevant and reaching new people.
That's on top of his other contributions: He's written dozens of reviews in his time here, as you can easily find. But he was also vocal and instrumental in many discussions behind the scenes: Weighing in on awards and many other features, and being a voice of reason in disagreements, both on- and offline: he eventually became the "RPGFan Dad," due to being mature and level-headed beyond his years, making him seem older than he is (in a good way). He and I never were able to convince the staff to overhaul our scoring system, but he put up a hell of a good argument!
I could go on and on, but I think you get the idea. Rob has been a major player at RPGFan, and stuck with us through many ups and downs in his 8 years here. The site literally wouldn't be the same without him. I consider all of us fortunate that he came our way, and I consider myself personally lucky to be able to call him friend. My emotions right now are best summed up in the following GIF, from one of the most emotional moments in my childhood TV history. I'm sorry to see you go, Rob, but I wish you nothing but happiness and success.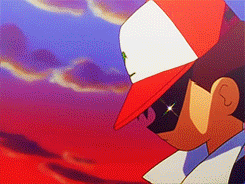 (Of course, you're welcome back any time.)