Oh Hey, Chrono Trigger is on Steam Now
Travel back in time (again!), starting today.
02.27.18 - 12:43 PM
With a quick surprise press release and trailer, Square Enix has announced the immediate availability of its classic SNES RPG Chrono Trigger, now on PC via Steam.
This new release iterates upon the DS and mobile re-releases, by including the Dimensional Vortex and Lost Sanctum dungeons. The UI has been slightly refreshed, but is thankfully not a straight mobile port, either. In addition, this release features "updated" graphics and sound, with the visuals getting a "hopefully this can be disabled" smoothing filter. The sound, however, has been re-recorded under the supervision of original composer Yasunori Mitsuda.
(see more in our
Chrono Trigger gallery
)

Both keyboard/mouse and controller configurations are supported, and an autosave function exists alongside the standard Save Point system (which likely means a temporary 'quick save' slot).
Finally, until April 2nd, 2018, buying the game on Steam entitles you to a "Limited Edition" digital package, which includes:
A 5-song bundle, featuring some of the game's most memorable tracks: Far Off Promise, Wind Scene, Battle with Magus, Corridors of Time, and Chrono Trigger.
Album liner notes from Yasunori Mitsuda
Six PC wallpapers - see preview below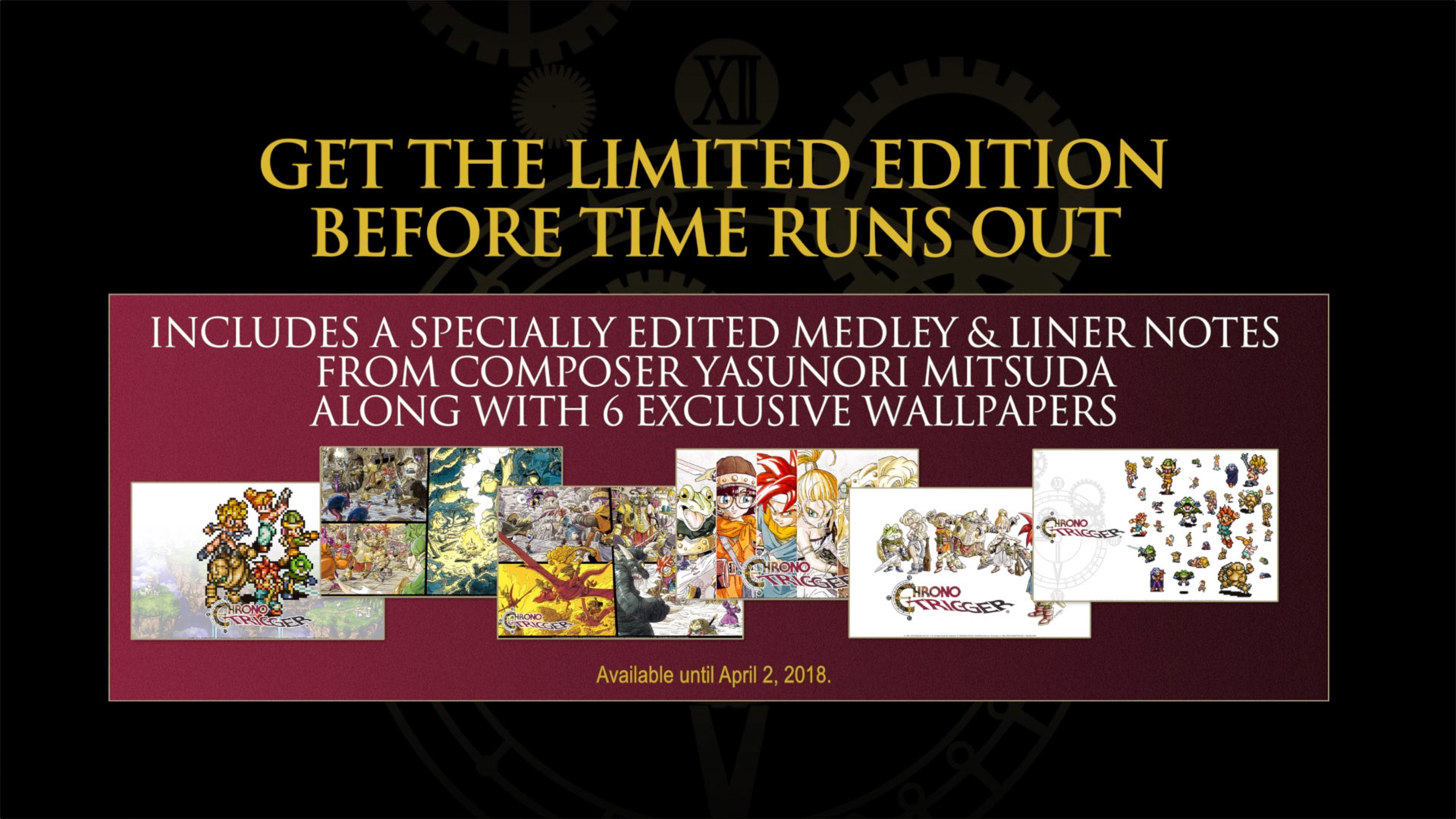 Oh, wait, I lied, there's one more "finally." Today also marks the release of Chrono Trigger on the Amazon AppStore. The Amazon version, and already-available iOS and Android versions have also received a major update today that brings some of the PC enhancements (such as updated visuals and sound, gamepad functionality, cloud saves, and achievements) to these editions.
Chrono Trigger is available now on Steam for $14.99 USD. Check out the launch trailer below: