Final Fantasy XV: Windows Edition Gets Demo and Gordon Freeman Costume on February 26th
Say it with me, now... Half-Life 3 confirmed!
02.23.18 - 10:04 PM
Square Enix has announced that the Windows Edition of Final Fantasy XV will be receiving a free demo on February 26th. Players will be able to play through the game's first chapter before the full version drops on Steam, Origin, and the Microsoft Store. In addition, Square Enix also revealed a series of pre-order incentives exclusive to each of these retailers.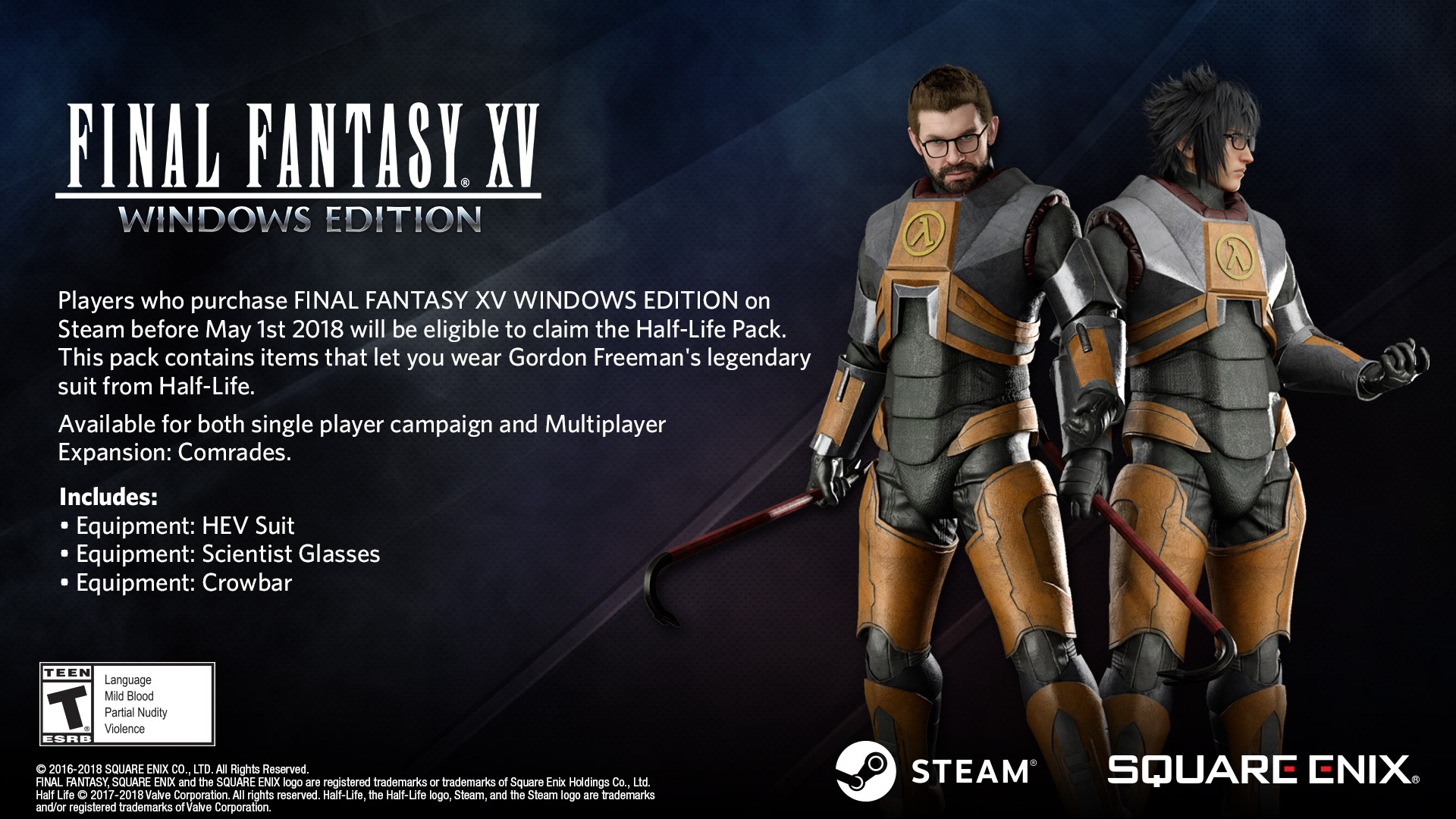 Purchasing Final Fantasy XV: Windows Edition on Steam through May 1st will net players the Half-Life Pack, which includes exclusive gear based on the protagonist of Valve's dormant Half-Life series, Gordon Freeman. Said Half-Life Pack is also accessible in the Comrades multiplayer mode for Final Fantasy XV.
Also available for pre-ordering the game on Steam is a set of T-shirts based on the various DLC episodes available for Final Fantasy XV. The tee for Episode Gladiolus will enhance the user's strength, Episode Prompto's will boost HP recovery, and the tees for Episode Ignis and Comrades will improve the user's critical hit rate and maximum HP, respectively.
Origin and the Windows Store also have a unique set of bonuses. Pre-ordering Final Fantasy XV on Origin will net players a set of decals for the Regalia, while pre-ordering from the Microsoft Store gives Noctis a unique weapon, the Dodanuki, which lowers the defense of foes. The Windows 10 version of Final Fantasy XV will also be compatible with the Xbox One version, opening up cross-save functionality and cross-play for Comrades.
Final Fantasy XV: Windows Edition will launch on March 6th. Stay tuned to RPGFan for more details.