Persona Series Official Support App to Launch in Japan This Spring
Pre-registration for Persona O.A. is available now!
02.20.18 - 2:06 AM
Atlus has announced that the company will be launching a support app for their Persona series titled Persona O.A. The app will be available in Japan this Spring on Android and iOS devices.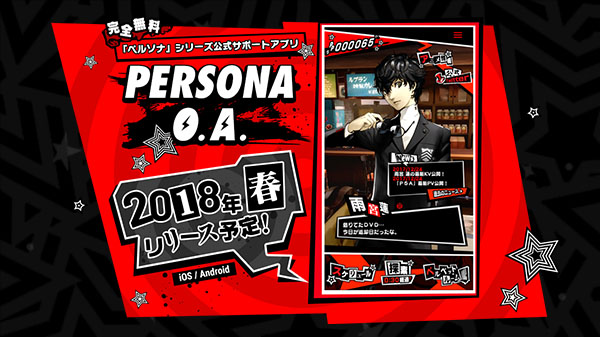 According to Atlus, the app will provide fans with a ton of Persona related news as well as allow users to take part in an exploration game involving new conversations with characters throughout the Persona universe. Players will also be able to accrue 'Persona Points' by engaging in various activities. These points can then be spent to summon Personas to join your exploration, to download web content, get presents, and even apply to events.
But at its core, the app is first and foremost an information hub for Persona equipped with a news page giving gamers the most recent and relevant in Persona info. There is even a schedule feature so you can ensure you take your time and never forget that day down the road you need to set aside to save the world. You can register for the app via the official website.
This crazy cool app is currently slated for release in Japan this Spring on Android and iOS devices. When we know more we will be sure to let you know!