Catherine: Full Body Announced for Playstation 4 & Vita
No need to feel sheepish.
12.19.17 - 4:34 PM
Those who missed out on Atlus' arcade puzzler/erotic horror adventure Catherine back in 2011 will soon have a second chance to experience this unique nightmare of sexual anxiety and block-pushing.
Catherine: Full Body is a full remake currently in development for PlayStation 4 and, surprisingly, Vita. The Shin Megami Tensei-adjacent adventure stars Vincent Brooks, a 32-year-old IT guy whose long-term girlfriend, Katherine, has started to pressure him into marriage. As he grapples with this dilemma of responsibility, he whiles away each night with his pals at the Stray Sheep Pub. Before long he meets the disconcertingly named Catherine, a flirtatious femme fatale who won't take no for an answer. To make matters worse, that's when Vincent's exhausting nightmares start...as well as news reports of young men dying in their sleep from unknown causes...
The remake is being handled by Atlus' latest internal development team, Studio Zero, who you may remember is headed by Catherine/Persona 3-5 director Katsura Hashino. However, Hashino won't be directing Full Body — that responsibility has been handed over to Kenichi Gotoh, who served as Catherine's gameplay planner.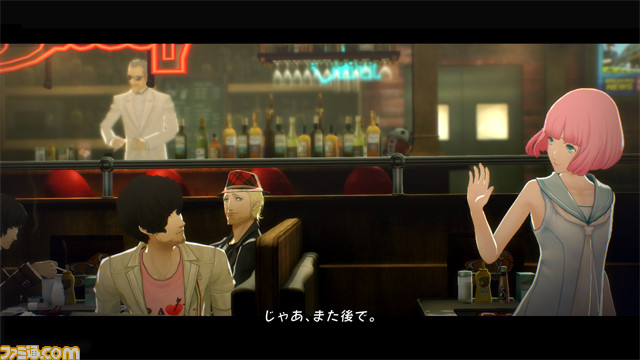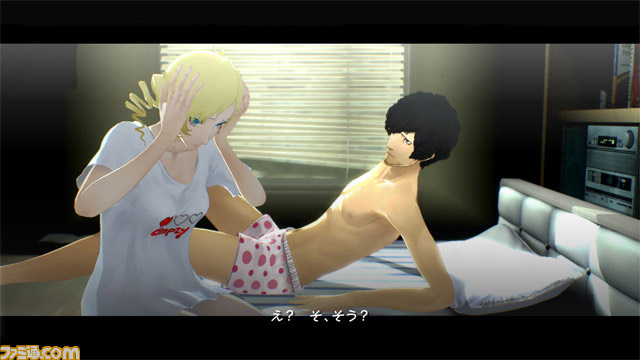 For those who've already squeezed every last drop of content out of the game's initial release will be pleased to hear that Full Body includes a third Catherine to get to know. This Catherine, Rin for short, is the Stray Sheep's newest pianist. Rin's set to have her own robust story arc and multiple endings to pursue. On top of additional story content, Full Body will include an online VS mode, cross-save between PS4 and Vita, and numerous tweaks to the game's mechanics.
Further information on Catherine: Full Body will be revealed in the latest Famitsu, which hits store shelves in Japan on December 21st. Furthermore, Atlus will be hosting a NicoNico stream to show off their work-in-progress at 19:30 JST on December 22nd.