Spike Chunsoft Announces New "Survival RPG" Zanki Zero
No more puhuhu?
04.27.17 - 9:58 AM
The latest issue of Weekly Famitsu has revealed a new game from Spike Chinsoft entitled Zanki Zero for the PS4 and Vita. It is being developed by much of the same staff that worked on the Danganronpa games: in fact, the idea for the game has simmered in the background at Spike Chunsoft over the past six years. Zanki Zero is a post-apocalyptic "survival RPG" focused on a cast of eight survivors, with "strong action elements" and seamless transitions from field to battle as these characters gather resources and combat enemies that have adapted to the harsh environment. There's also a sheep-like animal mascot character because... of course there is. You can read an official synopsis below.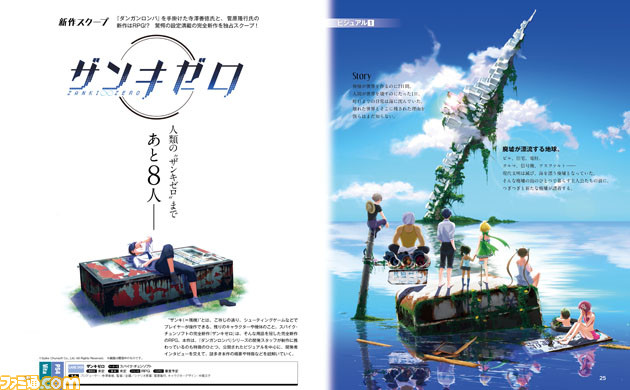 God created the world in seven days. It only took one day for humans to destroy the world. Until yesterday, every day life was sinking into the sea. We do not yet know the broken world and the reasons left behind there. An earth where ruins drift about. Buildings, houses, light posts. Cars, traffic lights, asphaltó. Modern civilization was destroyed, and became ruins drifting in the sea. New ruins drift one after the other before the protagonist, who lives on one of those ruin islands.