Final Fantasy XV Director Sends New Years Message to Fans, Kingsglaive Fan Appreciation Movie Released
Wishing you a happy new year.
01.03.17 - 4:30 AM
Square Enix released a new year's message from Final Fantasy XV director Hajime Tabata thanking fans for their support throughout the past year. He promises to give back next year with free updates and DLC to provide a long-lasting experience with Final Fantasy XV for everyone.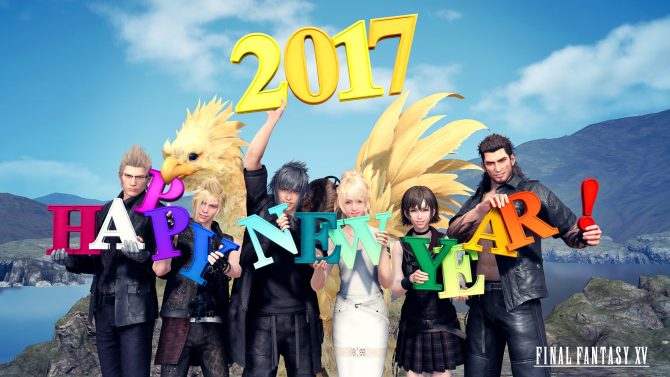 Here is Tabata's full message:
Happy New Year!
In 2016 we were able to deliver Final Fantasy XV to everyone at long last.
We were able to accomplish the goals we set out to achieve, such as subtitles for 12 languages, 4 fully voiced languages and a simultaneous global release date.
By creating a full CG movie, we provided a new experience of enjoying a movie and game as a set to the world.
By releasing a mobile mini-game we were able to bridge the real world to the game world.
We, the FFXV team were able to achieve these things because of the warm and strong support of our fans.
I have decided that 2017 is a year for us to give back to everyone for their kindness.
There are many players playing FFXV in various ways, and nothing makes us happier than this.
To provide a long lasting and memorable experience for everyone, we will continue to update the game and release DLC.
We ask for your continued support for Final Fantasy XV in 2017.
Director,Final Fantasy XV
Hajime Tabata
In addition, Square Enix released a Kingsglaive fan appreciation movie starring Malboro-kun and Yama-chan. The film is a light-hearted departure from the rest of the Final Fantasy XV universe where we see Marlboro-kun running away from a monster to later witness Yama-chan defeating the same beast. Later we get to see how Yama-chan acquires the meat for his famous Malbo Smul dish. See it below.
With all of the planned updates to Final Fantasy XV, fans are certainly going to have a lot to look forward to in 2017. As always we will keep you updated on any more Final Fantasy XV news.