Tales of Berseria: Artorius, Ceres Revealed, New DLC Costumes and New Gameplay Features
Brace yourself.
07.30.16 - 11:02 PM
Famitsu has gone up with its latest online preview of Tales of Berseria, providing the official artwork and descriptions of its latest characters, Artorius Collbrande and Ceres. In addition, we also get a look at upcoming costume DLC, new battle features and new mini-games coming to the Tales series for the first time.
Berseria's newly revealed cast members are an interesting duo, both belong to the Malak race, spiritual beings who harness the power of nature for their Artes. They have also been in Velvet's life at one point, Artorius in the past and Ceres in the present. Read more about them below.
Artorius Collbrande
Voiced by: Kenyu Horiuchi


Designed by: Kousuke Fujishima


Age: 32


Height: 187cm (6'1'')


Weapon: Long Sword
Altorius is chief of the Abbey and their most powerful member. Since he appeared alongside several Malak three years ago when the world was in crisis and destroyed the Daemons, he has gained overwhelming support as a savior. He used to live with Velvet and once had a close bond with her, but left their home after the incident three years ago. He is a calm, collected fighter, relying on will and logic instead of emotion.
Ceres
Voiced by: Satomi Arai


Age: ???


Height: 170cm (5'7")


Weapon: Amulet
Ceres is a fire-wielding Malak and former partner of Artorius. Like other Malak, she does not act based on her own will, but regained it after the incident three years ago. Since then, she has not been favorable towards Artorius' actions. She sneaks into the prison where Velvet is imprisoned to set her free.
In addition to the character reveals, Famitsu unveiled four new DLC costume sets, Maid/Butler, School, Fairy Tale and Idolmaster. All of these sets will be released on Aug 25th, a week after the Japanese release. The School costumes will be ¥400 yen each, while the Maid/Butler, Fairy Tale and Idolmaster will cost ¥300 yen each. Check out photos of them below.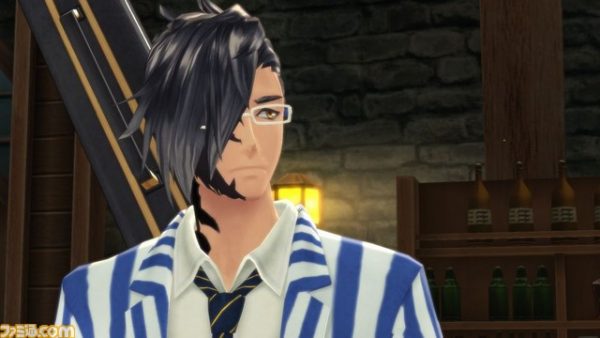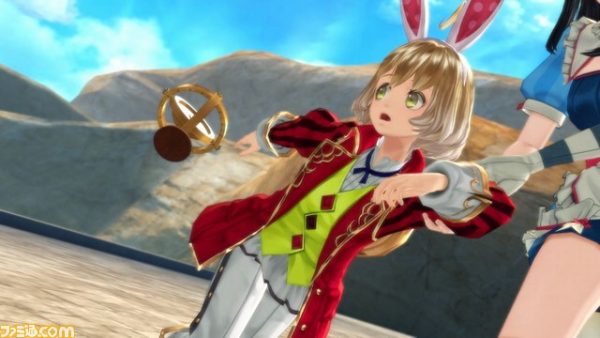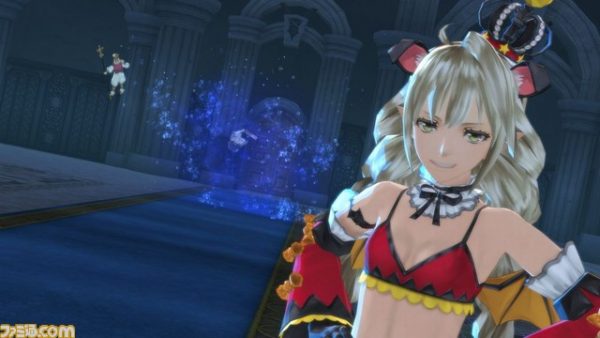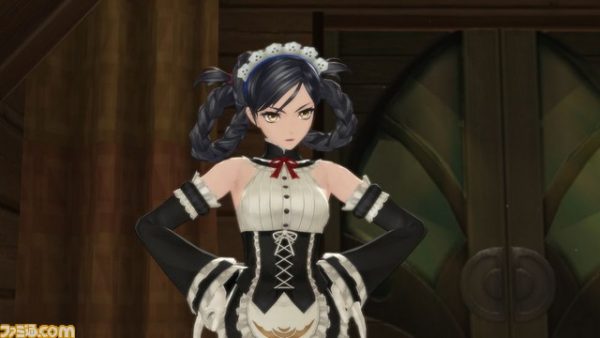 Potentites: New items that will grant you additional effects and abilities during battles.


Code Red Daemon Hunting: Powerful Daemons called "Code Red" are scattered throughout Berseria's world, ready to challenge your party. Defeating these tough foes will yield the player powerful items, such as Potentities. You can defeat Code Red Daemons without talking to the quest giver first and still claim your reward after reporting your victory.


Wandering Enemies: If the Code Red Daemons weren't challenging enough, Wandering enemies are even tougher and only appear after meeting certain battle conditions. They will be accompanied by several enemies.


Serving Mini-Game: Place items at correct tables based on customer's orders (testing your restaurant server skills!)


Geoboard Races: In this mini-game players race against the clock to get a high score on the Geoboard. Two modes are available: Coin Getter and Flag Checker, where you will need to gather as many coins as possible before the timer ends or collect all flags as quickly as possible, respectively.
The amount of content Tales of Berseria contains is really amping up my hype for this game. While it is unlikely that Berseria will reinvent the wheel, the gameplay additions and refinements may give it a spot as one of the top Tales titles when it releases.
Tales of Berseria will be released August 18th in Japan for PS4 & PS3. The Western release is planned for early 2017 for PS4 & PC in North America and Europe. Check out our hands-on first impression and gallery!