Sword Art Online Hollow Realization Gets New TV Commercial, European Collector's Edition Announced
SAO fans all over the world can return to Aincrad this fall.
07.17.16 - 9:12 PM
On July 10th, Bandai Namco released a lengthy commercial for Sword Art Online: Hollow Realization. The clip is a minute long and focuses on the game's cutscenes. Check it out below.
Hollow Realization has an original plot where Kirito and his friends are drawn back into a restored Aincrad, the setting of the first arc in the series.
In addition, Bandai Namco also announced that Europe will be receiving a collector's edition for the PS4 version of Sword Art Online: Hollow Realization. The European Collector's edition will include two exclusive figurines of Kirito and Asuna (16cm tall) and a limited collector box.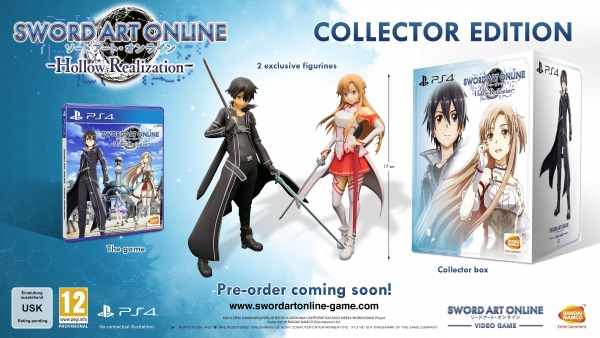 Sword Art Online: Hollow Realization will be released in Japan on October 27th. A North American and European release is planned for this fall. Check out our screenshot gallery for more photos of the game.