Gladio's Sister and Luna's Brother Confirmed To Be In Final Fantasy XV
That car looked cramped enough as it was.
07.15.16 - 12:49 PM
In Episode 3 of Brotherhood: Final Fantasy XV fans got to meet Gladiolus' adorable little sister Iris Amicitia, and many fans wondered if she would be included in the game. Thanks to Weekly Jump, we can confirm that she will make an appearance in Final Fantasy XV as she is seen in the car with the guys driving down a road. The scan states that she managed to escape the imperial attack against the capital city Insomnia, and she currently lives in Lestallum. Hopefully, she joins the party in some capacity and maybe is even playable at some point.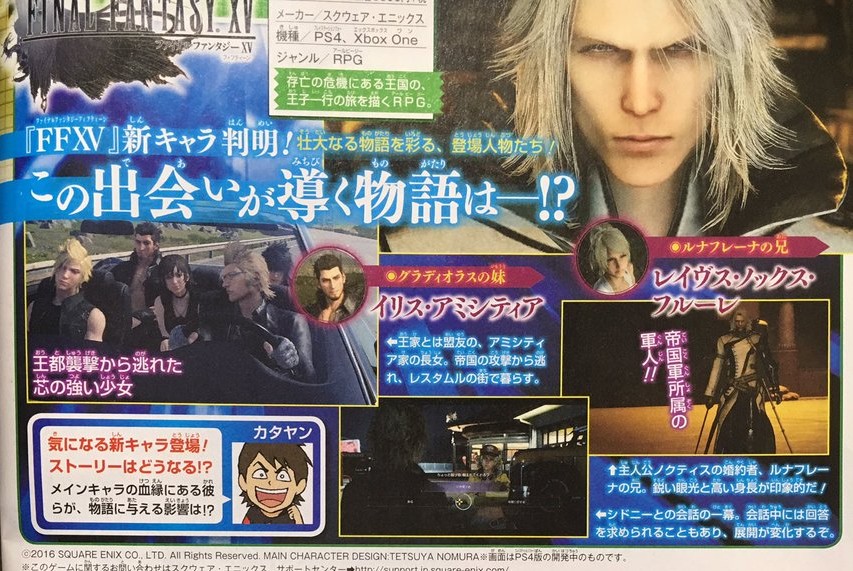 The scan also gave us a first look at the in-game model for Luna's brother Ravus Nox Fleuret. It states that he has strong eyes and is still an officer in the Niflheim Empire army. Along with this scan it was also stated that both the North American and European box arts have reversible covers that show the Yoshitaka Amano artwork that was originally used. And in case you missed it you can check out the third episode of Brotherhood down below
Final Fantasy XV releases worldwide on September 30th for both the PlayStation 4 and Xbox One.