FuRyu Announces Caligula for PlayStation Vita
Written by the scenario writer for Persona 1 and 2!
02.25.16 - 12:54 AM
FuRyu has announced a brand-new RPG for the Vita entitled Caligula, developed by Aquria, directed by Takyua Yamanaka and written by Tadashi Satomi, the latter of which also wrote the scenarios for Personas 1 and 2. Tsukasa Mako will provide the music, while characters have been designed by Oguchi.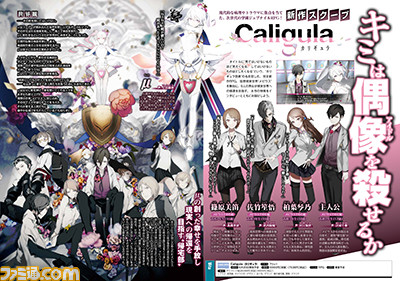 Caligula is set in the virtual world of Mobius, headed by a vocal software called μ, where all human beings exist as an ideal high school student and repeat high school life. Although most people have forgotten about the outside world, nine men and women, for various reasons, aim to escape Mobius. They form the "Going Home Club" and seek a way out, coming into opposition with the "Ostinato Musicians" who serve μ and view the Going Home Club as traitors. Many have noted that this sounds like a critique of the popularity of titles like Persona and The Legend of Heroes: Trails of Cold Steel, and FuRyu aims for Caligula to be a "next generation juvenile RPG" that offers a tale of modern pathology and trauma. The game itself will feature seamless transitions into combat and a combo-based battle system. You can check out the first teaser trailer below.
Caligula will be available in Japan for PlayStation Vita on June 23rd.