See What's in Etrian Odyssey Untold 2's Launch Edition
Atlus' habit of providing gamers with phat loot is in full effect.
03.31.15 - 3:29 PM
So, there's a new Atlus game on the horizon, which must mean a whole host of goodies for those who pre-order or purchase said game at launch, right? Well, said game is Etrian Odyssey Untold 2: The Knight of Fafnir, and you're darn right there's treasure in store for those who brave the labyrinths at launch.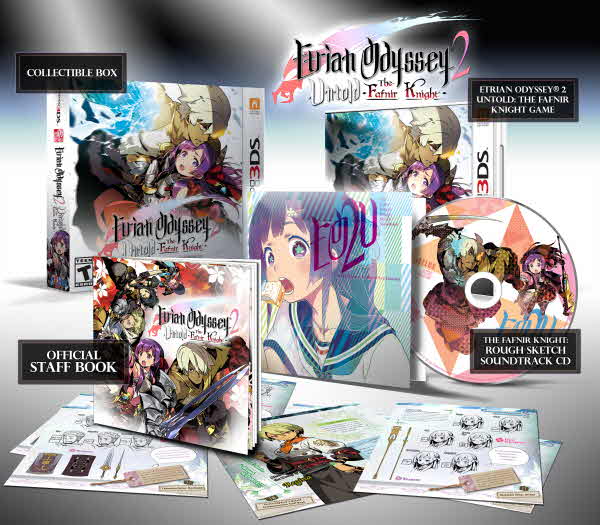 Each launch edition will include an Official Staff Book, which comes not only with 22 pages of art from the game, but also some developer insight into the different characters and some QR codes that unlock special Grimoires that will aid new players. They also come with the Fafnir Knight Rough Sketch Soundtrack, which features earlier versions of Yuzo Koshiro's music and a mini-comic included in the CD packaging. All of this comes in a nifty collectible box. As is per usual with treasures such as these, quantities will be limited, so get those pre-orders in, explorers!
Etrian Odyssey Untold 2: The Knight of Fafnir comes out for Nintendo 3DS sometime later this year.