Steins;Gate Collector's Edition Detailed For Europe
The "El Psy Kongroo Edition" to be exact.
03.20.15 - 2:45 AM
PQube and Rice Digital have announced an exclusive Steins;Gate Collector's Edition for the European release on the PlayStation 3 and Vita. Named the "El Psy Kongroo Edition" it will include the following items:
Limited edition game box.
126-page art book featuring CG and key artwork.
Double pin badget set for new Future Gadget Lab members.
Exclusive Metal Upa replica.
Badge Set and Metal Upa presentation box.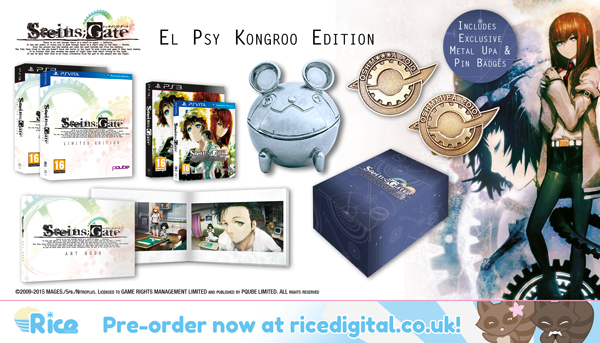 This edition of the game will cost you £49.99/€69.99/$79.99 US, and Rice Digital is including free worldwide shipping. With free shipping it appears as if Rice Digital is encouraging importers to buy the game, and if you are interested you can purchase it here.
Steins;Gate does not have an announced release date, but Rice Digital lists the game for a May launch.